New Jersey Commercial Asphalt Parking Lot Paving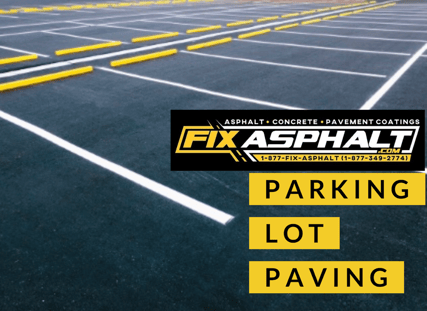 Your asphalt parking lot is the first thing a potential customer or client sees when arriving at your business. It is the first-impression that you make. Therefore, keeping your commercial parking lot in tip-top-shape should be a main issue to every property manager.
A freshly paved parking lot can add an immense amount of curb appeal to your property. A newly paved parking area tells your customers that you value them and their business.
If the asphalt in your parking lot is in poor condition, not only is un unsightly, it can create many life-safety issues such as potholes and massive cracking.
If your parking lot is past the point of no return and is experiencing severe cracking, alligator cracking, rutting, heaving, pot holes or areas of standing water, it is time to invest in an asphalt overlay.
We make recommendations to meet your budget at every level, while developing long-standing relationships.
Fixasphalt.com has been a trusted parking lot paving and repair company in NJ for more than 25 years.
Our NJ based pavement maintenance company is here to help you in all aspects your parking lot, we offer solutions for all your asphalt and concrete concerns.
Our firm is comprised of experts to help you properly diagnose issues with your parking lot along with making reccomendations which meet your budget while ensuring your receive an engineered scope of work for maximum service life.
From inital engineering services to determine the extent of the asphalt damage to painting the last parking stall after asphalt paving, we are your one-stop-shop for all your commecial asphalt and concrete needs to extend the life of your parking lot.
For an immediate quote and/or free estimate please fill out our form below. To speak to a parking lot consultant immidiately to obtain a budgetary quote- please dial: 1-877-349-2774.
Choosing a NJ Parking Lot Paving Company
Not all asphalt paving companies are created the same. When it comes to commercial parking lot paving choosing the right NJ asphalt paving company can be very stressful.
The installation of a new parking lot or repaving an existing parking lot is a large investment in time and money.
There Are Many Factors To Take Into Consideration:
What is my parking lot down time?

Am I getting the most for my budget dollars?

Did I choose the right contractor?

Did the contractor provide the proper scope of work?

Does the contractor have the proper experience to handle my type of project (shopping center, office building, hospitality, multi family)?
All of these can feel overwhelming, we at FIXASPHALT.COM have been serving "who's who" of the largest fortune 500 companies and property management firms in New Jersey for over 25 years.
We understand the plight of the property owner and manager. As a third party management company we understand your job to your client portfolio. We also understand how to fixed maintain that for you!
That Our Competitors Don't:
We listen to your expectations and then develop solutions tailored to fit the budget of your specific project.

Our professionally trained pavement consultants build solutions for property owners and managers.

Our consultants build solutions tailored to your specific asphalt/concrete project.We work specifically with commercial industrial property owners and managers.

Our company is strictly a commercial paving contractor, not a driveway company.

Our crews are trained to get in / out of your parking lots while minimizing impact on your tenants.

We offer our pavement maintenance services after 5 PM and on weekends to fit your schedule.

Our crews work on every aspect of your parking lot repairs: catch basins, line striping, pothole repairs etc.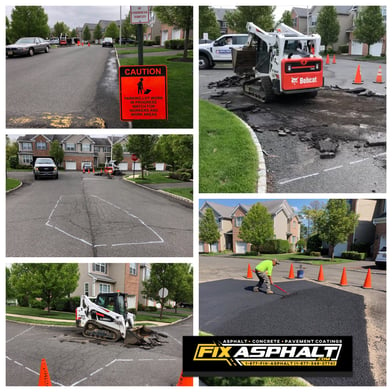 FixAsphalt.com -
NJ Paving Company Service List:
EMAIL US NOW FOR A FREE ESTIMATE