Catch Basin Repairs
Emergency Service Available In
For Life-Safety Issues In New Jersey, Delaware and Eastern Pennsylvania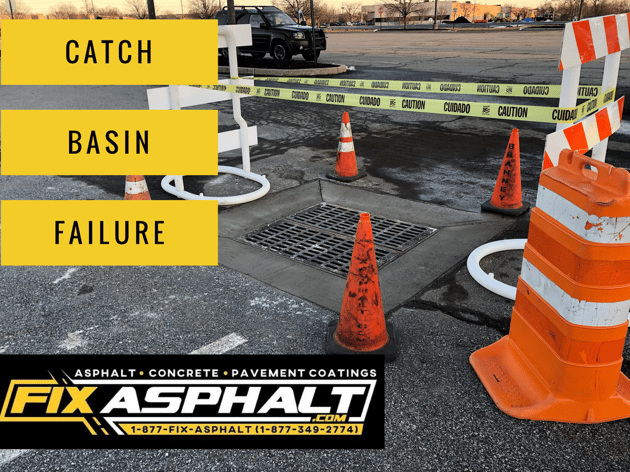 New Jersey Catch Basin Repair / Storm Drain Repair
What are Catch Basins And Why Do They Fail?
Catch basins work as a drainage system for your parking lot. They are built into an asphalt or concrete parking lot to redirect stormwater.
All catch basins will settle or deteriorate over time. As water enters the basin, the joints between the frame and grate casting, blocks, or mortar joints become weak. The water will eventually disintegrate the mortar. It's very simple.
When this happens, especially during the colder months, the water will expand and contract in the openings. This causes the mortar to "pop-out". This can cause a large issue in your parking lot.
In addition, cracks can appear around the perimeter of the catch basin and allow water to infiltrate the casting.
The Technical Stuff:
If either of the above happens, the catch basin may begin to settle around the perimeter. This will further allow standing water to accumulate.
If it's winter, the standing water will freeze and may become a potential liability.
At this point, the asphalt around the basin may begin to see some cracking. As the cracks continue to spread outward the asphalt will begin to deteriorate.
The casting may settle as the mortar "pops out" and an asphalt lip may appear. This will cause a tripping hazard. This happened because a section of the casting or wedge blocks may have fallen out from normal parking lot traffic. Worst case, the top row of the block may completely fail and allow the casting to cave in.
Our catch basin repair services can be as simple as patching the asphalt around the perimeter with a quick mortar repair, or we could provide an in-depth scope and complete structure rebuild. Either way, we will get your catch basin working.
We are available 24/7 for all of your NJ Catch Basin repairs. Most repairs can be completed within 24-48 hours of calling. Call 877-249-2774 today