Markets
We are a diversified business model which services all markets in the commercial, industrial and national account arena.
Health Care Facilities & Hospitals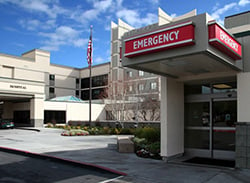 Health care & hospital facility managers not only face the same resource constraints as in other industries, but also the principal focus of patient safety and compliance with ADA, USAF and other requirements. Hospitals and health care facilities are some of the most complex buildings to manage because of the wide variety of functions within one facility. Parking lots and roadways are an important aspect of the facility's value and appearance of the grounds as a whole. Whether you manage one hospital or twenty five properties in a heath care group/affiliation, we can help you manage your entire pavement management plan.
Preventative maintenance is an important part of a capital asset program for healthcare and hospital facilities. We apply pavement sealers that are ready for traffic in as little as 1 hour for emergency rooms, urgent care facilities and other high traffic/on-demand areas of your facility that cannot be closed to traffic for 24 hours. In addition, we offer environmentally-friendly products that are conducive to a healthcare facility project, such as alternatives to coal tar emulsion pavement sealers (which emit fumes that could aggravate patients and visitors to your facility).
We can help you design a pavement management program to manage your entire portfolio of properties.
Our Past/Present Industry Affiliations Include: International Facility Management Association (IFMA), and the Building Owners and Managers Association (BOMA).