Markets
Property / Facility Managers
Shopping Centers
Office Buildings
Corporate Campuses
Industrial Parks
Trucking Facilities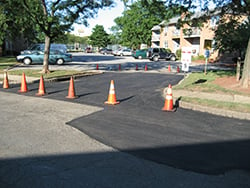 As a busy property/facility professional, you have many jobs to juggle as well as vendors to interact with. One of the most important ways to attract and retain tenants in office building or property management settings is to maintain the property's exterior and curb appeal. The parking lot is the first impression for potential tenants and their customers. A clean, well-maintained parking lot indicates a professional outlook in all aspects of business and translates into a positive first impression.
We offer our clients a comprehensive Preventive Maintenance Plan providing you with a computer generated program to identify current asphalt and concrete issues, as well as to establish a 1, 3, 5, 10 & 15-year budget for asphalt and concrete needs. Using our Pavement Guardian program, we can help forecast repair and maintenance needs and establish expense budgets. Customers and tenants will be happy to avoid large capital issues arising down the road by using our "Proactive" approach versus a "Reactive" approach
Our Past/Present Industry Affiliations include: Community Associations Institute (CAI), International Facility Management Association (IFMA), Institute of Real Estate Management (IREM), and the Building Owners and Managers.