Markets
We are a diversified business model which services all markets in the commercial, industrial and national account arena.
Golf Courses, Tennis & Country Clubs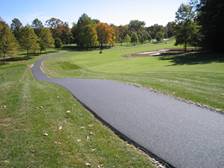 Golf and Tennis Clubs appeal to a certain clientele. This same clientele comes to expect an appealing property when used for their own recreation and to entertain clients, family and friends. Smooth and maintained cart paths, parking lots and access roads that are free of asphalt defects and seal coated to always maintain a fresh and welcoming look!
Furthermore, when work is being completed on the property, while members adhere to a dress and conduct code, you may be surprised to see most paving and concrete companies may not share the same vision for professionalism. Our crews are uniformed, professional and courteous of your members and guests. Our work sites are staffed with professional project managers who are accustomed to interacting with a more affluent clientele, along with support services such as portable bathrooms to maintain professionalism from start to finish with an understanding regarding the privacy your members/guests have come to expect with minimal disruption to their recreational activities.