Markets
We are a diversified business model which services all markets in the commercial, industrial and national account arena.
Single Contract Properties — Commercial & Industrial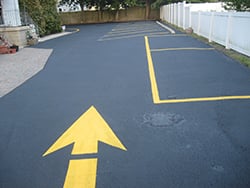 If you are an owner/manager of a single commercial/industrial property that is in need of paving, concrete or pavement maintenance services, you have found the right company. If your search through the yellow pages or internet has left you disappointed in the professionalism of the companies who have responded or you are suspect of their "high pressure — you must buy today" sales tactics, rest assured that interacting with our company is a night and day difference. When contacting our firm, you will be dealing with a first class professional organization that has serviced the largest Fortune 500 companies and national retailers in the country.
You can expect straightforward pricing in an easy-to-understand menu format which will guide you in the right direction for choosing the properly engineered service for your particular project. Our company employs an account manager who deals directly with single contract property owners to help better assist them in making a more informed purchase decision and avoid the scams perpetrated by unscrupulous asphalt contractors who target both residential and single property owner commercial properties with "high pressure" sales tactics and "bait & switch" scams backed by unprofessionalism, poor customer service and zero follow-up for punch list items.
The Parking Lot Solutions Division of our firm is dedicated to integrity, quality and professionalism.