NJ Asphalt Sealcoating and Paving Specialists in
Somerset County, NJ

What Is Sealcoating?
Sealcoat is a protective coating that extends the life of asphalt pavement and protects it from damage caused by UV rays, deicers, and fluids from vehicles.
Why Should I Sealcoat My Parking Lot?
Asphalt sealcoating has many benefits. The most important being, it reduces long-term repair costs. A properly maintained and sealed asphalt pavement surface reduces long-term repair costs.
Due to exposure to the elements a your parking lot may not be as black when it was when it was first installed. Sealcoating helps give your asphalt surface the black color it once had when it was first paved. It should be completed within 12 months of any paving project. It will not cure existing parking lot problems such as cracks and potholes, but it will help them from forming to begin with. A fresh sealcoating job adds curb appeal to your parking lot and gives customers a great first impressions.
During the cold winter months, seal coating can speed up snow and ice melting on pavement surfaces. By keeping the asphalt dark in color it is able to absorb and retain heat. This heat helps melt snow and ice on the pavement surface.
How Much Does It Cost To Sealcoat A
Parking Lot?
Using Coal Tar or Asphalt Emulsion Sealer, the average price to sealcoat your asphalt surface ranges from $0.14 - $0.25 per square foot. A number of factors can affect the sealcoating price:
Mobilizations: The amount of phases the project can be completed to minimize disruption to your customers / tenants.
Cleaning & Preparation: How dirty the parking lot is and how much cleaning will be involved using walk behind air blowers and steel wire hand brooms. Pavement sealer requires asphalt to be 100% clean to adhere / perform properly. The amount of oil spots which require preparation and priming with a latex based oil spot primer.
Layout Of The Parking Lot: Wide, open square asphalt parking lots and interior roadways without a lot of landscape islands, turns and other chopped up areas. When pavement sealer can be applied with a distributor truck spray bar making a 10' pass at a time versus a hand held spray wand applying sealer in a 3' pass at a time.
Size Of The Asphalt Parking Lot To Be Sealcoated: With all things being equal (Clean Parking Lot, 10 miles from office etc) theoretically it takes the same amount of time for a 4-person sealcoating crew to sealcoat a 15,000 sq ft open Burger King parking lot working in sections that is does to sealcoat a 60,000 sq ft closed office building parking lot on a Saturday.
With the rising cost of Coal Tar and Asphalt Emulsion raw materials, fuel, insurance rates etc., if you are receiving prices for sealcoating under $0.14 square feet / $1.26 square yard, you are most likely going to receive a sub-standard project when complete.
Choosing a NJ Parking Lot Paving Company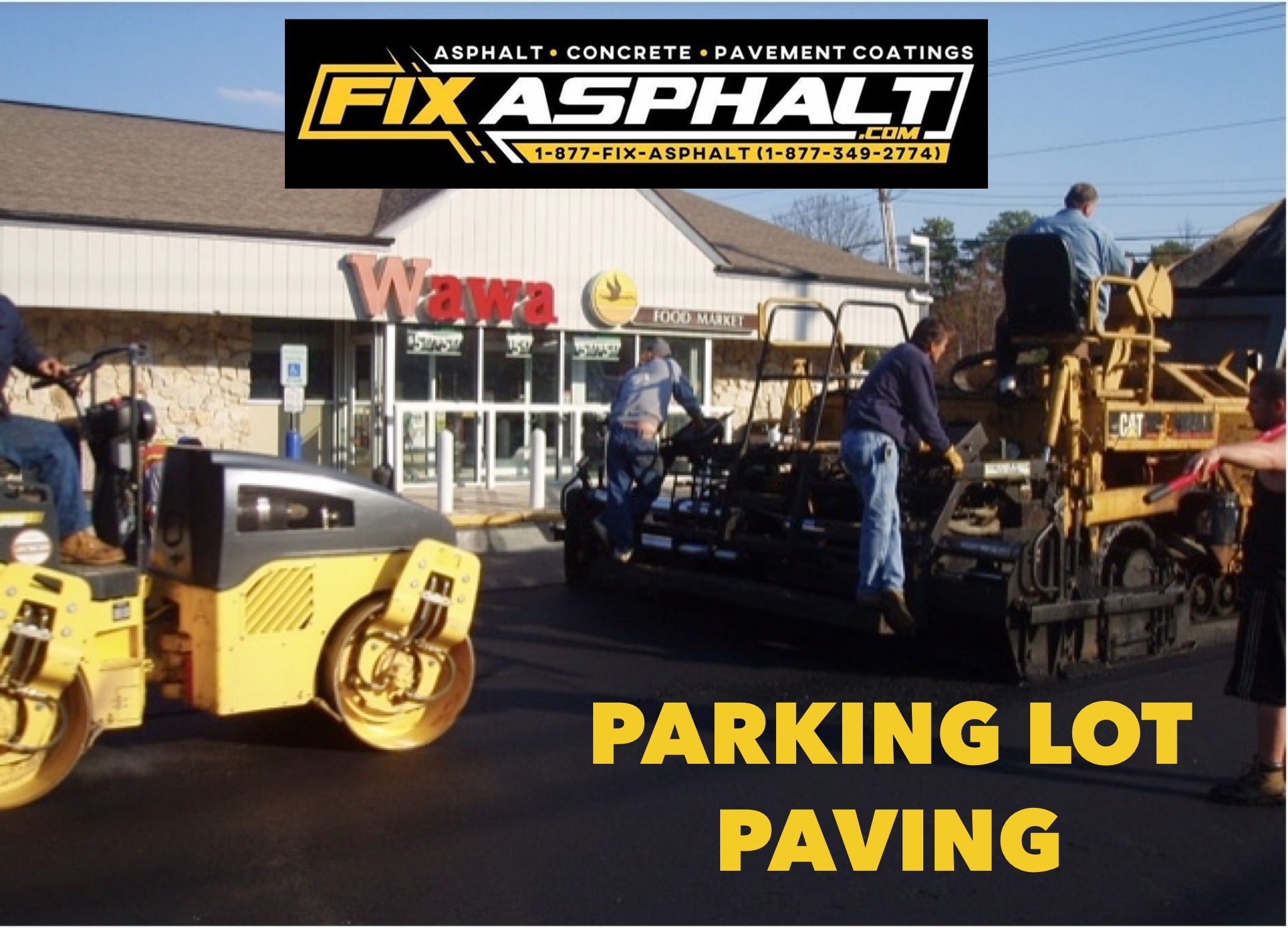 Not all asphalt paving companies are created the same. When it comes to commercial parking lot paving choosing the right NJ asphalt paving company can be very stressful.
The installation of a new parking lot or repaving an existing parking lot is a large investment in time and money.
There are many factors to take
into consideration:
What is my parking lot down time?

Am I getting the most for my budget dollars?

Did I choose the right contractor?

Did the contractor provide the proper scope of work?

Does the contractor have the proper experience to handle my type of project (shopping center, office building, hospitality, multi family)?
All of these can feel overwhelming, we at FIXASPHALT.COM have been serving "who's who" of the largest fortune 500 companies and property management firms in New Jersey for over 25 years.
We understand the plight of the property owner and manager. As a third party management company we understand your job to your client portfolio. We also understand how to fixed maintain that for you!
What FIXASPHALT.COM Offers
That Our Competitors Don't:
We listen to your expectations and then develop solutions tailored to fit the budget of your specific project.

Our professionally trained pavement consultants build solutions for property owners and managers.

Our consultants build solutions tailored to your specific asphalt/concrete project.We work specifically with commercial industrial property owners and managers.

Our company is strictly a commercial paving contractor, not a driveway company.

Our crews are trained to get in / out of your parking lots while minimizing impact on your tenants.

We offer our pavement maintenance services after 5 PM and on weekends to fit your schedule.

Our crews work on every aspect of your parking lot repairs: catch basins, line striping, pothole repairs etc.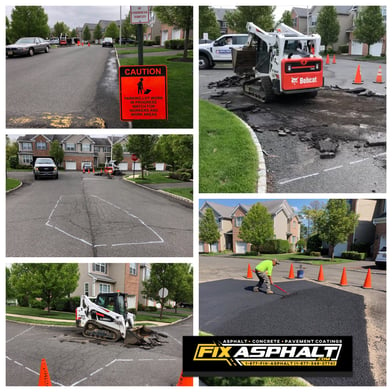 FixAsphalt.com -
NJ Paving Company Service List:
EMAIL US NOW FOR A FREE ESTIMATE