Pavement Maintenance: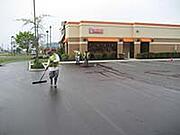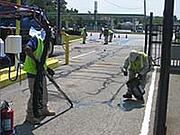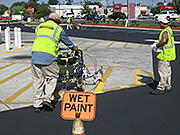 Our Pavement Maintenance Division offers a full spectrum of pavement maintenance services from simple re-stripes to a total property freshen up, with our comprehensively designed Pavement Management Programs that can be designed from 3 – 10 years in duration.
Our company started out as a sealcoating and striping company in 2001. We know pavement maintenance, and more importantly, we know how to custom design a pavement management plan to work within your budget. Our pavement maintenance division is comprised of skilled technicians that provide the highest quality workmanship in the industry- GUARANTEED!
Background On The Pavement Maintenance Industry
If you had a dime for every time a contractor told you they did high-quality workmanship you would be independently wealthy. You may be thinking to yourself, "Isn't high quality workmanship a minimum requirement that all contractors hold themselves to?" The answer is No.
The pavement maintenance industry is one of the most affordable professions for a person to enter, due to the fact the barrier of entry is very low. A pickup truck, 55 gallon drum, backpack blower, business card and cell phone and you are officially a pavement maintenance contractor.
As you scan through our website you will notice our fleet of state-of-the-art equipment. Besides the continuing education we participate in to learn about the newest products available, we invest heavily in resources to ensure we complete your project in a productive manner. Our resources enable us to perform the highest quality workmanship at the most productive pace. Throughout this website, you will constantly see us reinforcing our quality and service; this is because 95% of sealcoating / pavement maintenance contractors are not providing quality work or long-lasting product application.
Our company has put down millions of gallons of pavement sealer and is committed to providing you with not only the highest quality workmanship in the industry, but straightforward recommendations of the proper applications for your specific project.
Pavement Seal Coating:
A preventative maintenance plan that is executed while a parking lot is still in Fair – Excellent condition can DOUBLE the life of your pavement by protecting it from its enemies: sun & oxidation, water, gasoline, oil & jet fuel.
Properly designed parking lots rarely wear out from traffic. Surface deterioration is usually caused by the weathering effects of the sun and rain as well as the softening effects of deicers, gasoline and oil drippings.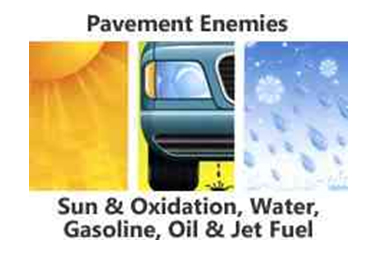 Oxidation, the graying in color of asphalt pavement, is a sign of fatigue, aging and general surface deterioration. When unprotected pavement becomes oxidized, the aggregate will begin to ravel from the surface making the pavement rough. Once the surface becomes brittle, cracks develop, and the pavement deteriorates. Furthermore, water that accumulates in open pavement structures is a major cause of pavement damage.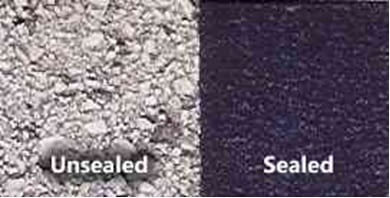 Instituting a preventive maintenance program before these damaging elements get a hold on your pavement is important. When you sealcoat asphalt, you double its life by shielding it from a variety of destructive forces. In addition to its practicality, sealcoating also enhances the appearance of your pavement by giving it an attractive, easy-to-clean, slate black color finish, which adds curb appeal. Seal coated pavements are smoother and make sweeping and cleaning much easier. The dark black surface will also aid in melting snow quick.
Did you know there are actually several different types of seal coating products along with more than a dozen mix designs? Our sealcoating program is tailored for each particular situation to form a tough protective coating over your parking lot.
Chesapeake Bay Region / Delmarva Peninsula:
Are you in the Chesapeake Bay Region / Delmarva Peninsula and looking for an environmentally friendly alternative to coal tar emulsion sealer? Contact us today to learn about our environmentally friendly products we have available.
Product Applications:
Just like there are several different grades of fine wine, the seal coating industry has its own "house list" as well.
Coal Tar Emulsion Sealer
Asphalt Emulsion Sealer "Environmentally Friendly Green Alternative"
Bio-Based Rejuvenators "Environmentally Friendly Green Alternative"
Polymer Modified Asphalt Emulsion Sealer "Most Durable For High Traffic Areas"
Fast Dry Pavement Sealers- Ready for Traffic In 1 Hour (No 24 Hour Shut Down Required- Excellent for quick service restaurants, hospitals, airport taxiways, shopping centers and any other parking lots that can't be closed for 24 hours.)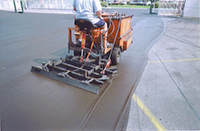 The application method for whichever product choice you make is equally important. For asphalt emulsion pavement sealers we have discovered the squeegee application proves best choice for durability. In addition, we offer spray applications and a hybrid of first coat squeegee application – second coat spray application.You do not have to choose your product and application method from our website today or when calling to request a site evaluation. Rest assured that when you are ready to begin a preventative maintenance sealcoating program, one of our company representatives will thoroughly review your asphalt parking lot and make specific recommendations as to which product and application method will yield the best results for your particular project along with a menu of alternatives to choose from.
Some Property / Facility Managers say: "Just make it black." Caveat Emptor- To some unscrupulous contractors, this is an open invitation to just spray one coat of black water onto your parking lot.
For a more comprehensive review of our seal coating products and application techniques, including a comparison chart, please visit our Pavement University page.
Recent Environmental Impacts on The Pavement Maintenance Industry: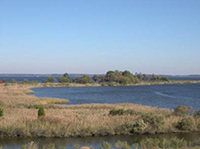 Although no study to date has proven coal tar emulsion pavement sealer to be toxic to any human or the environment, we have faced the facts that coal tar emulsion sealer probably will be banned from use in the next few years. Currently Coal Tar Emulsion is banned in the District of Columbia, Austin TX, certain sections of Minnesota, Suffolk County NY and Washington State. There have been extensive studies performed by environmental groups (motivated by their own political supporter's agendas) that have been taking affirmative steps to draft legislation to ban coal tar emulsion in the Chesapeake Bay Region, Delaware River Basin, and the New York Harbor (as if the NY Harbor could be any more polluted). Understanding that, alternative products such as asphalt emulsion pavement sealer, acrylic sealers and environmentally friendly bio-based rejuvenators are going to be the future; we have committed ourselves to continuing education and test decking these products. Back in 2006, we began testing several different mix designs and application methods for asphalt emulsion based sealers up until 2011 to ensure that if a coal tar ban goes into effect we will have an alternative product that is durable to offer our clients.
To learn more visit: www.truthaboutcoaltar.com
Environmental Concerns Conclusion:
Regardless of whatever environmental propaganda may or may not have on the sealcoating industry, one thing is for certain; if you do not implement a preventative maintenance program that includes sealcoating, your cost to maintain your asphalt parking lot will sky rocket along with losing 20 years of useful life.
To see the true costs of "not sealcoating" in regard to preventative maintenance, please visit our Pavement University and refer to the economics of sealcoating whitepaper.
Hot Rubberized Crack Sealing: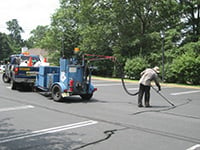 The most important and cost effective preventative maintenance process you can have performed on your parking lot is hot rubberized crack sealing!
Crack sealing your asphalt will help prevent water from penetrating into your sub-base, which is a major cause of pavement failure and leads to alligator cracking. By using state-of-the-art equipment to install DOT approved hot applied crack sealants (meeting or exceeding FAA, ASTM and DOT standards) we can install crack sealants that are designed to last.
Water flowing through open cracks into sub-base materials leads to pavement deterioration, which is commonly evidenced by the following conditions:

If they are left unattended, open cracks will begin to compromise the qualities of your pavement surface and eventually lead to the need for costly repairs or replacement. They may also increase your chance of liability problems by trip & falls.
We offer an option to extend pavement life through the use of a crack repair maintenance program, which deters the harmful effects of water penetration into the sub-base. Application of a hot rubberized asphalt crack sealer will prevent water penetration into the sub-base thereby prolonging the life of your pavement and elimination of potential liabilities.
Hot rubberized crack sealing, if installed properly, is the foundation of a successful maintenance program for any type of pavement. Every 2 to 3 years, pavement should be inspected to see if additional crack sealing is required.
Line Striping: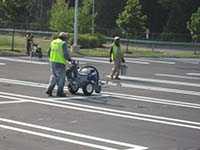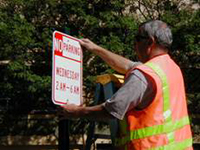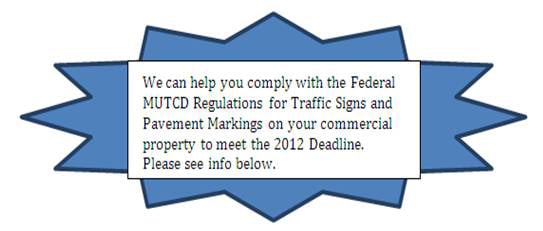 We offer a full-service line striping & traffic sign crew to handle any size project you may require to be completed. We provide the following services:
Line Striping- We install Latex Traffic Paint, Acetone Based Traffic Paint, Thermoplastic (Hot & Cold Applications) and 2-Part MMA Applications for concrete applications (We only provide line striping services for private / off street projects. For public projects or long line applications, please contact: Mark Sergeant @ Traffic Lines Inc 732-919-3100 www.trafficlinesinc.com
Handicap Striping & A.D.A. Upgrades
Traffic Signs Installation- We install standard and custom traffic signs
Concrete Car Stop Installation
Fire Lane striping and local code compliance
Yellow Curbing
Specialized Corporate Logos and Branding
Our striping trucks are uniformly outfitted with the same equipment, materials, support items and stencils to ensure uniformity at all of our customer's properties. The handicap stencil or arrow stencil we use on your property in New Jersey will match your property we stripe in Virginia.
Do you manage multiple properties in multiple states?
We can custom tailor a striping program for your specific needs from 10 – 750 sites.
If you choose, we can arrange to have all the stencils match at all of your locations along with adding any type of custom logos or special "font" lettering if you choose.
We are available to work 24 hrs a days, 7 days a week, 365 days a year (Weather / Conditions Permitting)
Unit Price Contracts, Lump Sum Contracts, Per Store Contracts
Important Note
We are definitely not the cheapest, but we are the BEST! The biggest issue with striping is that is mostly handled by either District Managers or Store Managers because it usually falls below the dollar amount of a CAPEX Project. Here is what you will experience if you are searching for the low bid for striping:
You will mostly be forced to deal with "part-time" stripers who only work on their days off from their regular jobs. This means, if you get a violation to cure with-in 72 hours for a worn out handicap stall on Monday and your striper can't get there until Saturday which is his / her next day off, what are you going to do in this situation?
There is little to no communication. The striper may just schedule the job when it is convenient to them and not notify anyone that they are showing up. You may find out they arrived the same night that your power washing contractor is due to power wash the sidewalks at 5:00 AM and the paint is still wet on the curbs and sidewalks. What are you going to do in this situation?
With the slim margins that are present in striping as it is, you may find your parking lot to have crooked lines, un-matching starts and stops at the ends of the parking stalls, paint flaking off of yellow curbs, stencils that are smaller than the ones that were there before but were never blocked out or Handicap Stalls which are not ADA Compliant. What are you going to do in this situation?
The contractor does not understand the busy times of your business so they show up at a fast food restaurant at 12 PM on a Friday afternoon and have half of your parking lot blocked off! What are you going to do in this situation?
Federal Guidelines Which Impact Signs & Pavement Markings on PRIVATE PROPERTY to include: Shopping Centers, Office Parks, Residential Developments, Apartment Complexes, Entertainment Centers etc.