Other Services
2012 ADA Upgrades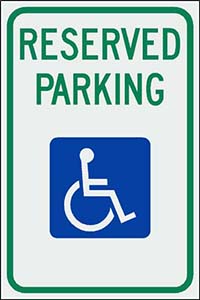 In 2011 the current A.D.A (Americans With Disabilities Act) was amended from the original 1990-1991 version. As of March 15, 2012 compliance with Title III became mandatory.
A portion of Title III gives guidance on compliance with accessibility in relation to handicap parking stalls, traffic signage, curb ramps and detectable mats / truncated domes.
The mandate covers MANDATORY compliance for commercial / industrial properties, hotels, convenience stores, retail stores, public parks, recreation facilities, hospitals, sporting facilities, colleges / universities and any other commercial property that is visited by the general public.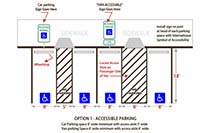 Contact us today for an ADA Inspection of your parking lots and sidewalks with a comprehensive compliance report.
Pavement Management

Our Pavement Guardian program offers property / facility managers peace of mind when it comes to monitoring and maintaining your parking lots.
Yearly & bi-yearly inspections with a full defect-inventory report, with pictures, submitted in an electronic format
Budget forecasting with a 3 – 5 year maintenance plan
Identification of life safety issues.
Service is free of charge to Preferred Clients Group and Maintenance Service Agreement clients.
Engineering services
Maintenance Service Agreements
We offer our clients, MSAs or maintenance service agreements, which is our proactive method for maintaining your asphalt parking lots.
Many times a property / facility manager will perform a seal coat and re-stripe on a parking lot and then postpone future maintenance / inspections for 3 – 5 years. The issue with this type of practice is during those 3 – 5 years, small cracks turn into large cracks, pot hole and alligator cracked areas turn into large expensive removal and replacement projects; all of these unplanned and unbudgeted for.
You begin to notice cracks and pot holes. You contact a vendor for a quote to make the necessary repairs and have "sticker shock" when you see the cost to rehabilitate the parking lot 5 years down the road.
Our maintenance agreements prevent this from occurring from "proactive" pavement management.
Our plan enables us to visit the property 1 – 2 times per season (spring & fall) to make necessary repairs.
In the winter we evaluate and crack seal to make sure small cracks do not turn into large cracks, small potholes do not turn into large tripping hazards etc.
In the spring we visit the site to perform an inspection, touch up any worn out striping and / or complete re-stripe.
Our maintenance agreements work in the same fashion as an extended warranty on your asphalt. For a fixed cost per square foot, per year, we can give you and your clients, peace of mind in knowing you only have to budget one cost per year to maintain your asphalt parking lots.
The maintenance agreements also cover emergency repairs (collapsed catch basins, emergency striping for A.D.A or fire lane issues, tripping hazards etc) for a reduced cost. Every spring & fall rest assured your parking lot proactive maintenance will be on autopilot.
Re-Imaging Services (Property & Facility Managers)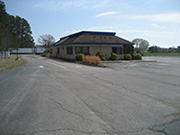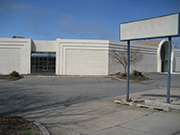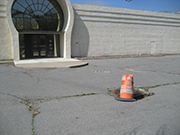 Are you trying to lease or sell a commercial / industrial / retail property that is in desperate need of an exterior makeover? Commercial real estate is about location, location, location…. and curb-appeal.
We can assist you in providing the necessary curb-appeal improvements to your property in relation to what your budget and expectations are.
Possibly you are representing the owner and they are looking to wholesale the property; however, they feel a fresh sealcoat and striping job on a tired gray parking lot will enhance the perceived value. Or you may be structuring a long-term lease with a national retail chain that has submitted a list of exterior parking lot and sidewalk upgrades that need to be performed for liability reasons prior to executing the lease.
Whatever your particular situation is; we can help.
National Retailers- We can assist you with parking lot, sidewalk and A.D.A. upgrades as part of a re-imaging program. Deal direct with our company to avoid high mark-ups by general contractors, national service providers, brokers etc. for the "highest quality workmanship and materials" installed by a 100% self-performing company. Eliminate the middleman and save!
Property Managers & Commercial Real Estate Brokers- Help your clients lease / sell their properties faster by providing immediate curb appeal to a worn / faded parking lot.
Commercial Property Disposition Firms- Do you have a portfolio of bank, supermarket, self- storage, warehouse properties etc. that you are marketing for sale? We can assist you in adding curb appeal to the entire portfolio.
Servicing NJ, PA, DE, MD & VA. Extended service is available; please contact us for further details.
Emergency Service:
We offer emergency service (Response time in 1 hour available) for the following services:
Catch basin collapses
Sink holes
Tripping hazards
Pot holes
Please contact our office immediately at 1-(877) FIX-ASPHALT if any of these issues arise.