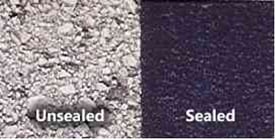 Why Sealcoat Your Asphalt Parking Lot?
Applying a coal tar or asphalt emulsion pavement sealer 1 year after asphalt installation and ever 2-3 years thereafter as part of a Preventative Maintenance Plan (PMP) will help extend the life of your asphalt parking lot by 25 years.
What Are The Benefits Of Sealcoating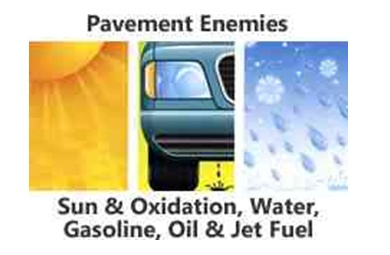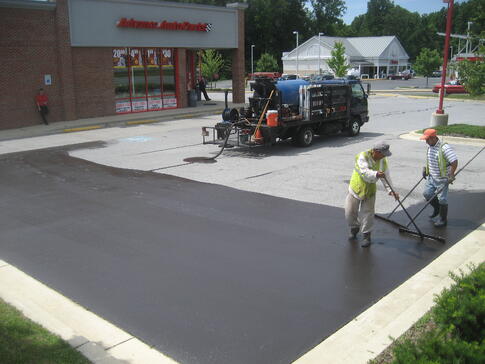 The picture above demonstrates Gem Seal Pavement Products Coal Tar Emulsion pavement sealer being applied with a broom application
What Is Sealcoat?
There are (4) four different types of sealcoating materials
Coal Tar Emulsion Sealer (Latex Based)
Asphalt Emulsion Sealer (Latex Based)
Acrylic Asphalt Sealer (Acrylic Based)
Asphalt Rejuvenator (Solvent & Soybean Based)
What are the most widely used sealcoating materials for commercial / industrial parking lot sealcoating?
Coal Tar Emulsion & Asphalt Emulsion are the most widely used pavement coatings which are used as part of an asphalt sealcoating preventative maintenance plan.
Coal Tar Emulsion & Asphalt Emulsion Sealcoats consist of a mixture of either coal tar (RT-12) or emulsified asphalt along with water, mineral fillers (Silica Sand, Clay or Slate), and various other admixtures.
Sealcoats are applied directly to the surface of an asphalt pavement. They can be applied by rubber squeegee, broom, or mechanical spray or a combination of the aforementioned applications (ie: First coat squeegee with a second coat applied by spray)
Sealcoats serve to seal the top of the asphalt, preventing water from penetrating the surface of the pavement and protecting the top layer of asphalt from oxidation and wear caused by exposure to the sun and air. Sealcoats will also prevent gas, oil and other petroleum solvents from destroying the asphalt when applied at the correct life cycle time of the pavement prior to these solvents entering the unprotected asphalt. Sealcoats also beautify the pavement by providing a smooth, black, even surface ideal for painting lines and sweeping and aid in faster melting of snow and ice.
Sealcoats are designed for off highway use where there are low traffic speeds and tight turning radiuses such as parking lots, mobile home parks, schools, shoulders, etc.
Sealcoats are different from Type I, II & III slurry seals / microsurfacing which use a much coarser aggregate filler and are designed for use on high speed areas with straight rolling traffic.
To learn more about different grades of asphalt sealers, average cost to sealcoat a asphalt parking lot etc, please visit our other blogs:
Advantages Of Using A Premium Grade Pavement Sealer
/blog/advantages-of-a-premium-grade-pavement-sealer-for-your-next-asphalt-parking-lot-seal-coating-project
Average Cost To Sealcoat An Asphalt Parking Lot
/blog/how-much-does-it-cost-to-sealcoat-an-asphalt-parking-lot
For a FREE SEAL COATING ESTIMATE to seal coat your asphalt parking lot in South Jersey, Delaware, Maryland, Delmarva, Mainine, Philadelphia or Baltimore