The average cost to line stripe a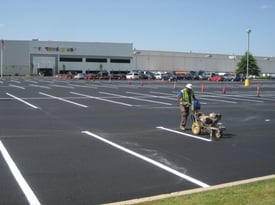 parking lot depends on the quantity of pavement markings and whether the parking lot is being re-striped or a brand new layout after the parking lot has been paved or sealcoated.
Most professional line striping companies have a minimum mobilization cost which ranges from $350.00 - $500.00. If your parking lot was very small and only required 10 parking spaces to be restriped @ $4.00 per line, 2 arrows @ $20.00 and 1 handicap space @ $35.00, the minimum cost would be $350.00 - $500.00, not $115.00. The reason for the minimum mobilization is to cover fuel, labor, paint, equipment costs and overhead. For a small project as the previous example when adding all these costs togeather, it probably cost the contractor $200.00 to stripe a $115.00 striping project.
Part time striping companies that are typically run as a side business by postal workers, police officers, public works employees, delivery drivers and other people who work shift work typically are closer to the lower range of the $350.00 minimum charge because of their lower overhead. Professional full-time line striping contractors are closer to the $500.00 minimum charge as they have many more costs to cover to run their buisness. The trade off comes down to urgency. Both groups of buisness owners offer high quality workmanship, the part time striper can only schedule your project on their days off wheich may not work if you are staring at a fire lane summons that needs to be corrected in 48 hours whereas a full time striping company recognizing the sense of urgency for this type of project would shift their schedule to try to accommodate you the same day in some instances.
Line Stripe (And Other Parking Lot) Prices
| | |
| --- | --- |
| Parking Stall (Single Line) | $4-$5 |
| Parking Stall (Double Line With Hairpin Half Circle or cap) | $6.50-$8 |
| Handicap Stall (Symbol With Blue Box) | $25-$35 |
| Arrow | $10-$20 |
| 4" Line Per Lineal Foot (White, Blue and Yellow for handicap cross hatching, fire lane line, no parking zones, loading zones, bull noses etc.) | $0.20-$0.40 |
| Stop Bar | $20-$30 |
| Yellow / Red Curb Per Lineal Foot (Top & Side) | $0.75-$1 |
| Stencliling- Per Letter- 24" High (No Parking, Fire Zone, Loading Zone, Stop) | $2-$4 |
| Numbers & Parking Stall Stenciling- 12" (Digits, Reserved, Resident, Doctor) | $1.75-$3.50 |
| Crosswalks (White & Handicap Blue) | $35-$75 |
When line striping projects are for larger properties, the costs below are average for the Mid-Atlantic Market for re-stripes. For new layout, the costs below increase by 20-50% to cover additional labor and the second coat of paint.