This method is used widely for pot holes, alligator cracked areas and other areas of asphalt failure.
Full Depth Remove & Replace- If it is determined that the sub-grade below is unsuitable (i.e.: sand, dirt, clay etc), you have the option of having it excavated and replaced with clean stone of recycled asphalt base to prevent the patch from cracking again and needing further replacement. Full depth replacement can be used to remove 4" – 24" of unsuitable sub base.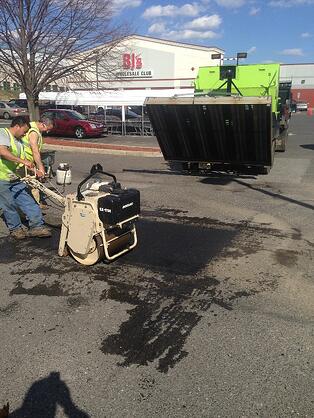 Infrared asphalt restoration is a very cost -effective method for repairing existing asphalt.

Infrared has gained popularity in the last decade due to its versatility and environmentally friendly alternative to R & R, remove and replace.

Infrared asphalt restoration is NOT designed for every type of asphalt repair, specifically remediating base failure. It is also NOT designed to repair asphalt which has base failure. If utilized for this application, the patch will fail.

Infrared asphalt restoration is ideal for pot-holes, bad oil spots, low spots / high spots, settling around utility structures, remediating trip & falls where the concrete meets the asphalt for in front of retail stores, sunken utility repairs. etc.