Seasonal Services
Winter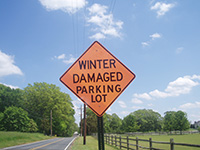 Typically the winter months of December 20th – March 15th are off-peak for asphalt, concrete and pavement maintenance services. In the Mid-Atlantic market the temperatures historically fluctuate between below freezing and above freezing throughout the winter months. These temperature fluctuations wreak havoc on asphalt and concrete through the constant expansion and contraction of asphalt & concrete substrates from the freeze/thaw cycle.
This leads to potholes, water infiltration into cracks, catch basin collapses, sink holes, heaving of asphalt and concrete in parking lots and sidewalks and other deterioration.
Although the winter is not an optimum time to perform asphalt and concrete repairs, the fact of matter is, if you leave these deficiencies in your parking lots and sidewalks, they can lead to costly trip and fall lawsuits and lost business from customers avoiding your parking lot landmines and heaved sidewalks.
We provide the following services from December 20th – March 15th:
Pothole Repairs (We utilize infrared asphalt repair which allows us to work in freezing temperatures while always having a fresh supply of hot mix asphalt kept in heated thermal containers to reduce segregation.)
Concrete Repairs (We utilize hot water concrete mixes with accelerators and nighttime heat curing blankets.)
Catch Basin Repairs
Repair of heaved asphalt & concrete
Line Striping (We utilize acetone based quick drying traffic paints which can be used in temperatures below freezing for emergency striping projects such as fire zone & handicap zone violations and striping to meet requirements for certificate of occupancies (COs)
Spring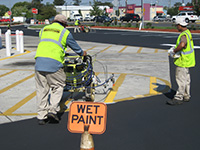 Our spring season kicks into full gear around March 30th. We typically begin work for asphalt and concrete repair, line striping, crack sealing and paving around this time period depending on the amount of snow accumulations still present and any forecasted winter storm events.
Our asphalt and concrete repair crews begin attacking our various size projects, which range from a few potholes to a 5,000 sq ft full depth asphalt replacement. In addition, this time of year is ideal to perform hot rubberized crack sealing. With the temperatures still being colder at night the cracks are still at their widest from expansion. This allows an optimum amount of hot pour rubberized crack sealer to fill and seal the cracks.
We begin a great deal of our larger more in depth projects during the spring as clients are eager to get their projects started which have usually seen the business end of Mother Nature all winter.
Traditionally beginning May 1st begins our sealcoating spring season. We have been able to sealcoat as early as April 15th in prior years however, we do not like to push the envelope and do not recommend sealcoating prior to May 1st.
Some contractors will attempt to convince clients sealcoating can begin as early as April 1st, however, the temperatures at night are usually too cold and the ground is not warm enough. This is usually motivated by their personal interests in attempting to generate cash flow. We have rarely seen projects sealcoated that early in the season last through the year. If a contractor is telling you it is ideal to sealcoat prior to May 1st, make sure to get a written warranty of 1 year and agree on holding 25% retainage.
Our striping crews begin work as early as March 15th. We use acetone based traffic paint, which can cure in temperatures below freezing. Most property / facility managers like to perform their re-stripes early before Easter with their mulching to add curb appeal to their shopping centers and other commercial properties.
We have developed a spring check list (download here) to help you evaluate your property's damage from over the winter to assist with budgeting.
Summer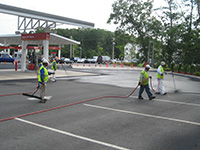 The summer season is just as busy for us as the fall with the exception of allowing us an extended work schedule. The summer allows us extended work hours not only due to extended daylight but also the overnight temperatures. Our entire service line is available for night work in the summer. *** Additional charges may apply for off-peak work hours.
We offer sealcoating services at night; however, we do not recommend applying pavement sealers at night if the area is going to be opened to traffic the next morning. Our typical nighttime sealcoating services are to allow for extended curing time. (i.e.: We have access to a closed office complex all weekend, we may begin sealcoating Friday night at 7 PM through 7 PM Saturday evening to give the parking lot all day Saturday and all day Sunday to dry and cure.) Some sealcoating contractors will tell you sealcoating can be performed at night, striped at 5 AM and opened to traffic at 6 AM; this is not accurate. Some sealcoat manufacturers will also back up this claim to help their clients sell the job. If any manufacturer makes this outlandish claim, make sure to get it in writing along with an "unconditional" 1 year WRITTEN warranty that covers both labor (by the contractor) and materials (by the manufacturer). Any pavement sealers applied at night would not be able to permit traffic on the surface until the following afternoon at the earliest to allow for proper curing. Nighttime sealcoating is popular for shopping centers, fast food restaurants and other high traffic parking lots. In the long run, it is better to accept the fact that sealcoating performed during the day is going to cause some minor inconveniences; however, you are going to receive an application that is applied as per the manufacturers specifications which will last 3 – 5 years, versus sealcoating at night and having the job fail in 6 months or less when the sealer wears off all the drive lanes.
Bottom line- any pavement sealers applied from 7 PM-6AM need at minimum 6-12 hours of sun, heat and wind the following day to cure properly.
Fall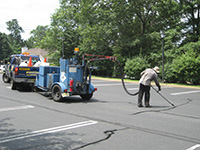 The fall "Rush"; our busiest time of the season. The fall is the final opportunity to utilize any surplus budget funds before year -end to help protect your asphalt and concrete before the winter.
Preventative & corrective maintenance is imperative prior to the end of the fall when temperatures may not be conducive for sealcoating. In addition, crack sealing is a vital part of a preventative maintenance plan to make sure small cracks don't turn into large cracks and large cracks do not turn into alligator cracked areas or pot holes.
The following is our service schedule for the fall:
SealCoating- Our sealcoating season ends typically around October 31st. On occasion, we may be able to go into the first week of November if the temperatures remain warm; however, historically, over the last 4 years we have ended sealcoating between October 25th – 31st.
Line Striping- 12 Months a years
Milling & Paving- Our milling and paving schedule typically ends before Thanksgiving. There are certain days in December where the temperatures are warm enough (40 degrees or above) to allow paving.
Crack Sealing- Typically ends before Thanksgiving
Asphalt Repair & Concrete- Our asphalt repair & concrete schedule typically ends before Thanksgiving. There are certain days in December where the temperatures are warm enough (40 degrees or above) to allow asphalt repair and concrete work to be performed.
Infrared Asphalt Repair- 12 Months a year.
Our scheduled work crews end work typically December 20th – January 2nd. We keep one crew available on standby during this time for any emergency service calls that may arise, however, we do not schedule routine projects during these blackout dates.
Scheduling Note
With the fall being one of our busiest times of the year along with daylight savings time and cooler temperatures; it is imperative to contract / schedule your projects as early in the season as possible. We begin in Mid-August to set our schedule for the fall months. This is especially true for sealcoating projects that have restricted workdays. For example, if you have a sealcoating project that can only be completed on a Saturday & Sunday, you only have 8 available weekends to choose from and during those 8 weekends you have to hope the weather cooperates.
Deficient Budget Assistance
Do you have important work that has to be completed but you have a deficient budget? The time to contact us is in August when we are planning our projects. We may be able to reduce mobilization costs if we have a project(s) in the immediate area to allow you to save money and get the important work completed- we term this "stacking projects." We can typically value engineer any project to meet a client's budget
We have developed a fall check list (download here) to help you evaluate your properties prior to winter to help identify any life-safety issues which may exist and require correction prior to the winter.
We have developed a fall check list (download here) to help you evaluate your property's damage from over the winter to assist with budgeting