NJ Parking Lot Crack Repair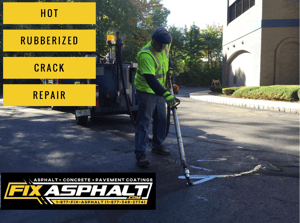 Parking lot crack repair is the single most cost-effective way to extend the life of your asphalt parking lot.
Fixing asphalt cracks in your parking lot with a hot-rubberized crack sealant will extend the life of your pavement by up to 50%. Crack sealing, when used as an annual preventive maintenance, will add value to your investment for many years.
In order for the crack repair to last, a hot-rubberized crack sealer must be used. Hot-rubberized crack sealer is heated and applied at 420 degrees by a specialized propane-fired machine.
As with any type of asphalt repair, preparation is key. Cracks vary in size and depth, so it is important for you to get a full pavement evaluation. There is no one-size-fits all approach.
Contact one of our NJ locations today or Visit Our NJ Parking Lot Crack Repair Blog