New Jersey Parking Lot Asphalt Milling
What is Asphalt Milling?
Asphalt milling is the process of removing a layer of asphalt material from a paved surface using a milling machine. The milling process grinds and removes the top layer of the pavement, including surface irregularities and any damaged areas. The removed material is then recycled and used as a base for new asphalt pavement or as a component in recycled asphalt.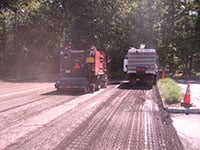 Asphalt milling is used to remove ½" – 4+" prior to installing a new 1 1/2" - 2" asphalt overlay.
Benefits of Asphalt Milling:
Allows a 6" curb reveal after resurfacing (Some code requirements dictate that there must be a minimum concrete curb reveal to prevent trip & falls)

Is utilized for efficient removal of damaged asphalt and/or base material to prepare the identified areas for installation of either new sub-base stone or binder asphalt prior to installing the asphalt overlay

Is extremely effective for drainage correction and surface profiling to remove irregularities

Is utilized for removal of failed asphalt mix that has hairline cracks prior to installing the asphalt overlay

More Advantages of Choosing Asphalt Milling

One advantage of asphalt milling is that it is an affordable way to fix or enhance paved surfaces. Typically, milling is less expensive than totally removing the pavement and reinstalling it. Furthermore, milling can be finished quickly, eliminating downtime and obstructing traffic or business operations.

The ability to modify pavement height is another benefit of asphalt milling. Pavement settling and other variables over time can generate uneven pavement height, which can lead to drainage issues or safety dangers. The pavement can be milled to change the height, which will improve drainage and guarantee a level, secure surface.

Another sustainable and eco-friendly choice for the asphalt milling process is to use recycled asphalt pavement. A substantial amount of asphalt material is produced during the milling process, which can be recycled and used in upcoming paving operations. Utilizing recycled materials helps to cut down on trash production and lessens the requirement for new asphalt.

Overall, the advantages of asphalt milling make it a preferred option for contractors and property owners. When employing recycled asphalt pavement, it is economical, flexible in terms of pavement height, and sustainable.




How Much Does It Cost To Mill An Asphalt Parking Lot?

The average cost to mill an asphalt parking lot in New Jersey, Eastern Pennsylvania, Delaware & Maryland ranges from $0.35 - $0.60 per square foot.

The cost is dictated by the following:

Size of the project

Dimentions of the parking lot and obstructions (ie: Landscape Islands, Utility Structures, Entrance / Exits etc)

Cost to legally dispose of millings (Clean fill location to dump for free v. paying $8.00 - $20.00 ton to tip off at a recycling facility)

Day, Night or Weekend Project
Answers to Common Questions
Are Asphalt Millings better than Gravel?
One of the benefits of using asphalt millings instead of gravel is that they are considered to be more environmentally friendly. Gravel mining and transportation can have a negative impact on the environment, while asphalt milling uses recycled materials that would otherwise be discarded. Additionally, asphalt millings can be used in a variety of applications, including as a base layer for new asphalt pavement, as a component in recycled asphalt, or even as a surface material for roads and driveways.
Does Asphalt Milling get Hard?
Asphalt millings can be just as durable as new asphalt pavement when applied correctly. The milling process removes the top layer of the existing asphalt surface, exposing a fresh layer of asphalt material. When compacted properly, the new layer can be just as strong and durable as a new asphalt surface. However, it's important to note that milling should only be used when the existing pavement is in good condition and not severely damaged or deteriorated.
Fix Asphalt: New Jersey Asphalt Milling Contractor
Fix Asphalt is a professional New Jersey asphalt milling contractor that specializes in pavement milling and full depth removal. Their team of experts uses state-of-the-art equipment and techniques to provide top-quality asphalt milling services. They can mill any road surface or paved area to remove any surface irregularities or damaged areas, leaving a smooth and even surface. They can also recycle the removed material to be used in new paving projects or as a component in recycled asphalt. Additionally, they can seal the asphalt millings to provide added durability and protection against the elements. If you're in need of asphalt milling services, contact Fix Asphalt for a professional and reliable solution.
**Important Note**
Asphalt milling will NOT prevent reflective cracking if there is cracks in the base layer of asphalt or if there is vertical movement in the asphalt base layer from unstable subgrade. Some asphalt contractors will lead you to believe milling the surface layer of asphalt in a badly cracked / deteriorated parking lot will prevent reflective cracking.. This is NOT accurate. In some instances, the top 1 ½" – 2" overlay in the past may have cracked from either insufficient thickness for the traffic design (ie: Installing a 1" asphalt overlay in a heavy truck area), the asphalt may have been installed when it was cold and the property compaction was not achieved or the asphalt mix was defective. In these cases, after milling and sweeping the lot, if the base layer does not show signs of cracks, the new overlay will not have reflective cracking (As long as it is installed at the proper thickness for the traffic design). If after milling and sweeping cracks are evident in the base layer of asphalt, the only application to prevent reflective cracking is to install a geotextile paving fabric as mentioned above.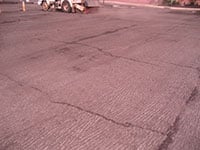 Here is an example after milling where cracks are still present in the base layer of asphalt.