Markets
We are a diversified business model which services all markets in the commercial, industrial and national account arena.
National Accounts
Vertical Markets We Service:
Retailers (Big Box, Auto Parts, Pharmacies, Stand-Alone Brands, All Types)
Banks (National Banks & Local Community Banks)
C-Stores/Gas Stations
Restaurant Chains (Sit Down & Quick Service)(Franchised & Corporate Owned)
Self-Storage
Hotel Chains (Franchised & Corporate Owned)
REITs
Parking Lot Maintenance as part of a re-imaging service for your brand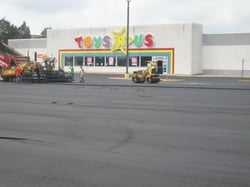 As a National Facility Management Professional, you are probably finding your portfolio growing, manpower shrinking and never enough hours in the week to get to your entire task list. With this being the case, you may be tempted to opt for a National Service Provider relationship to simplify your property maintenance/pavement management. If you have opted to go this route in the past, you probably have been disappointed with the results of what was sold as "hassle free" service.
We currently self-perform all contracts our company sells in NJ, NY, PA, DE, MD & VA with extended service into New England and Georgia.
In addition, we maintain relationships with two other firms in Indiana and Minnesota that self-perform projects in the Mid-West. Both principals of these companies have worked as Project Managers for national paving companies and are completely seasoned in dealing with national accounts and more importantly, embrace the principles of self-performing the work versus sub-contracting. Depending on your personal preference, we can either refer you to these companies directly or manage the entire process for you by having one master contract completed in up to 22 different states by three self-performing contractors with one management contact versus dealing with one NSP, Broker, National Pavement Company, etc. for projects in 22 different states when they are trying to manage 50 different sub-contractors.
Our Past/Present Industry Affiliations Include: Professional Retail Store Maintenance (PRSM), Restaurant Facility Managers Assoc. (RFMA).