Solving Underground Water Issues In Commercial Parking Lots:
French Drains / Under Drains / Drainage Tile: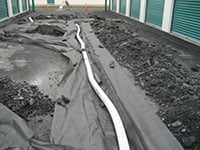 Drainage tile, sometimes referred to as French Drains or Under Drains in the industry, is 4" – 6" corrugated flexible drainage pipe which is installed underground in a trench back filled with clean 3/4" drainage stone. The premise behind the design is to wick water from an underground water source and redirect it into a catch basin, drainage area or other suitable area.
Simply, the objective is to prevent water from reaching the surface of your parking lot, sidewalk or other area where ground to surface water caused by hydraulic pressure.
A constant stream of water to the surface from below ground can cause all types of liability issues such as: ice in the winter, moss growth creating an equally slippery surface as ice, clients / customers having to navigate around the wet areas to keep their shoes dry etc.
We have completed many of these exotic projects where property managers felt they would have to deal with water issues for the life of the property, only to have us provide a comprehensive solution and solving their underground water issue in its entirety.
Get Your Parking Lot Back to Business with our Underground Water Repair Solution

Are You Tired of Constantly Dealing with Water Issues in Your Parking Lot?

If you're a property manager, you know that a parking lot with water problems can be
a nightmare. Not only does it create a risk for accidents, but it also damages the
property and can ruin tenant relations. Ignoring the problem simply isn't an option.


Say Goodbye to Water Issues with Our Professional Underground Water Repairs

Our team of experts specializes in repairing underground water issues in parking lots quickly and effectively. Our solutions are affordable and will get your parking lot back to business in no time. We offer a range of services to meet your specific needs, including waterproofing, drainage repair, and foundation repair.


Benefits and Features You Can Count On

Our solution has many benefits, including:

- Preventing accidents and damage to property
- Improving overall tenant satisfaction
- Increasing property value
- Saving time and money in the long run

With our solution, you can count on:

- Fast, reliable service from a team of experts
- Cutting-edge technology and equipment
- A focus on sustainability and eco-friendliness
- Competitive pricing and great customer service

Don't let water issues in your parking lot keep you up at night. Contact us today to learn more about our underground water repair solution and get your parking lot back to business.