Challenges Facility Managers Face When Sealcoating A Parking Lot:
If you are a facility manager for quick-service restaurants, c-stores, gas stations, casual dining, big-box retail or any other facility that is open 24 hours a day or only closed a few hours a night I am sure one of your frustrations is how fast a seal coating application can wear off your asphalt parking lot. What exacerbates the issue is when both management from the store level and field are emailing you asking why. As a facility manager, these are not inviting emails to receive especially when you notice they have cc'd everyone in your department including your boss (possibly his/her boss) asking why the pavement sealer has just worn off the parking lot in less than 4 weeks.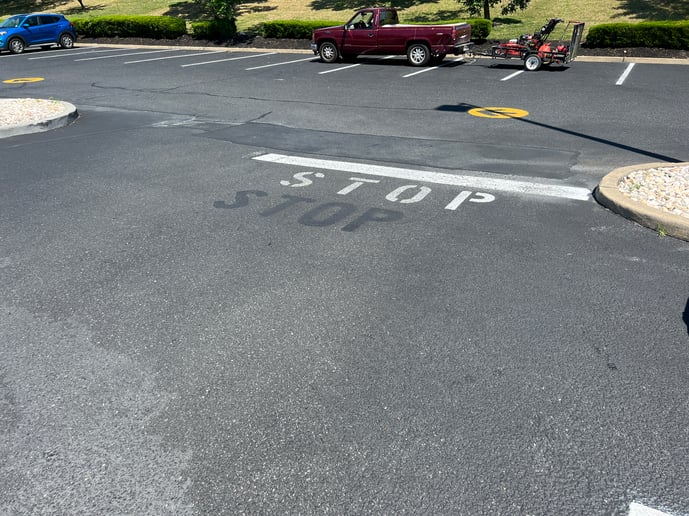 (The picture above is a seal coating application on a quick-service restaurant that is less than 6 weeks old)
Who's to blame for the premature wear and tear?
It could be:
The store manager who opened the parking lot early without permission
The facility manager rushes the contractor to get the job opened because they are fielding non-stop phone calls from the store
A garbage truck/delivery truck driver opens the area without permission
Sometimes it's just an employee trying to be the "hero" to the manager who doesn't realize they have just voided the warranty of the application by opening the parking lot early under the impression it's helping the company
If you are a contractor- be ready to get "triggered" because most of the time it's the seal coating contractor's fault! Asphalt seal coating is one of the most OVER SOLD services to facility managers. Ask a seal coating contractor what type of parking lot can be seal coated, and their answer is "anything that is blacktop." What makes matters worse is if you are dealing with a 3rd party "broker" that is simply responding to an RFP, has no technical knowledge of the process, and relies on a subcontractor who has even less knowledge than them for guidance on pricing and the actual evaluation of the parking lot to make sure its a candidate for seal coating.
The asphalt seal coating contractor should appropriately counsel a prospect/client on how to get the longest service life from their pavement sealer application. The sad truth is that most do not. Fearing losing a sale, they will tell the facility manager what they want to hear. As the facility manager, you are stuck dealing with the fallout after the application wears off 4-6 weeks later.
What Top 5 Vertical Markets Experience The Poor Performance Of Pavement Sealers:
* Quick Service Restaurants / Casual Dining
* C-Stores (Convenience Stores)
* Sit Down Restaurants that are only closed for a few hours a night.
* Gas Stations
* Big Box Retail Stores
To add insult to injury- due to the inherent problems with seal coating the verticals above- most successful and seasoned pavement maintenance experts avoid servicing these client portfolios. This is the main reason national facility managers have to look to 3rd party maintenance companies/brokers to facilitate these types of projects and cannot find self-performing vendors to entertain the RFPs. The 3rd party maintenance company/broker is now in the same situation the national facility manager finds themself. They are now having to contact and solicit bids from unseasoned contractors who may be submitting bids for parking lots beyond seal coating or relaying flawed information back to the 3rd party/broker who is then transmitting it back to their client. In the end-, "YOU," the facility manager, is stuck dealing with the mess.
Why Is Sealcoating Important:
Asphalt seal coating is often seen as "cosmetic" and provides little value besides a quick but short-lived added curb appeal by making the surface black. The sad truth is this is 100% accurate for many applications such as quick-service restaurants, c-stores, gas stations, and big-box stores.
With the cost of asphalt rising, the cost "not to seal coat" far outweighs any impact to sales. With the average cost to reconstruct a failed parking lot ranging from $4.00 - $8.00 per square foot, there is no comparison when realizing a $5,000.00 - $10,000 negative impact on sales for the day to leave a parking lot blocked off, so the pavement sealer has a proper 24 hour cure time. Not to mention the benefit of having the pavement sealer last more than 4-6 weeks before it wears off.

What Is The Cost Of Not Sealcoating?
Failure to implement a pavement management plan will result in the life expectancy of your parking lot being reduced by half.

Why Does Seal Coating Fail?
Seal coating fails for various reasons, with most revolving around "cure time." The dry time and cure time are two different processes. Pavement sealers are water-based products that require 2 of 3 environmental factors to cure correctly—sunlight, heat & wind. Sunlight is one of the two factors that can never be absent from the equation.

Nighttime applications are simply a waste of money. The only time of the season it is warm enough at night to help pavement sealers cure is in the summer, when it is also the most humid. The atmosphere is the "pump" that extracts the water from the pavement sealer to help cure it. When it is humid, there is too much moisture in the atmosphere to allow the coating to release the water, which results in the sealer not curing and tracking issues as the sealer film on top may appear to be "dry" to the touch but the coating below is still wet.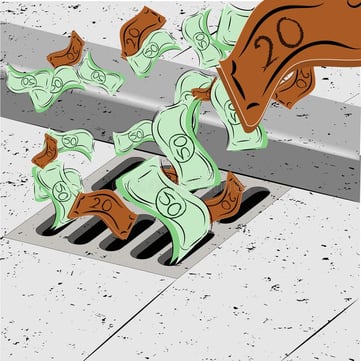 NIGHTTIME APPLICATIONS ARE WHERE MOST PAVEMENT SEALER APPLICATIONS FAIL FOR QUICK SERVICE RESTAURANTS, C-STORES, GAS STATIONS, AND BIG-BOX RETAIL STORES. The contractor comes in to seal coat with a small window of 10 PM - 5 AM; the store opens back up at 6 AM, and the pavement sealer is either not dry or begins to track, at which point your cell phone and email light up like a Christmas tree with store management asking "what to do." The contractor or 3rd party "broker" are all unreachable, leaving you with the fallout to deal with- hoping to get it revolved before your boss reads their email.

Regardless of what a contractor tells you, pavement sealer requires 24 hours without traffic to cure properly. Any parking lot opened to traffic before 24 hours will wear prematurely. Any parking lot seal coated overnight and opened to traffic the following morning will experience the pavement sealer completely worn off in high traffic areas anywhere from 30 days to 90 days.
What Are The Recommendations For Facility Managers In These Specific Verticals?
STOP SEAL COATING
If you are unable to close your parking lots to traffic for a minimum of 18-24 hours of daylight I would highly recommend STOP SEAL COATING! You are simply wasting budget dollars and receiving no value in return! Aside from receiving no value you are exposing yourself to potential property damage claims from customers tracking the pavement sealer into their vehicles and inside your store.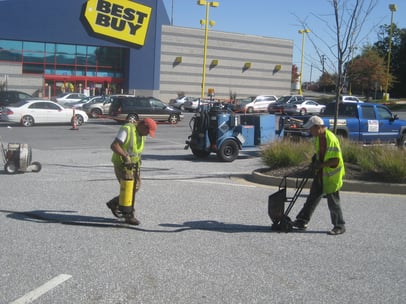 My recommendation would be to focus on crack sealing any open cracks on an annual basis. Have your parking lots inspected annually by trained pavement maintenance professionals and ask if they have an annual maintenance plan you could sign up for. Crack sealing does not require a parking lot to be closed to traffic for proper curing. Crack sealing can be completed overnight and immediately opened to traffic the next morning without degradation to the material. Crack sealing can also be completed during the day, broadcast with an application of Black Beauty Slag and opened to traffic in less than 15 minutes.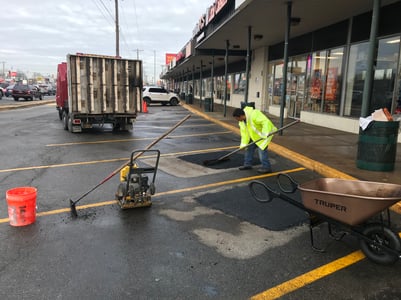 Asphalt seal coating is recommended to prevent gas and oil damage to your asphalt. It is advisable to inspect your parking lots for any degradation to the asphalt from gas and oil that could result in a trip and fall. These areas can be repaired with infrared asphalt restoration to restore them to their original condition. Small-Box retail stores such as this auto parts / mechanical service retailer often have large areas of oil and gas damage to their front parking stalls.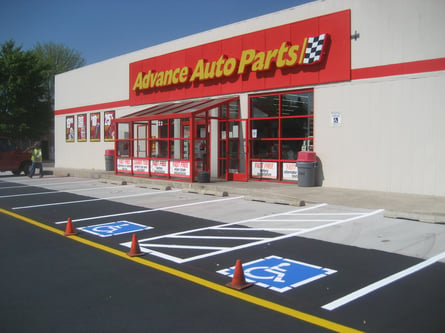 Converting your front parking stalls to concrete (either 8' or the full 20') will prevent degradation from gas & oil as concrete is impervious to these substances.
But My Seal Coating Contractor Told Me They Mix Something Into The Sealer To Make It Dry At Night So I Can Open The Parking Lot The Next Morning...
There are additives formulated for pavement sealer manufactured by various companies that are designed to speed up the cure time of pavement sealer. What these additives do is force the water out of the coating to speed up the cure time. They are designed to be used in pavement sealer that is applied during the day- not at night! If you read any of the technical bulletins for these products they all stipulate that their products are designed to function as intended when the sun is shining, low humidity, windy and above 70 degrees Fahrenheight. They all warn against applying pavement sealer at night with a disclaimer that nighttime application will result in longer dry times or void their claim of faster curing. Here is an example below from one manufacturer of a popular additive we have been using for over 20 years.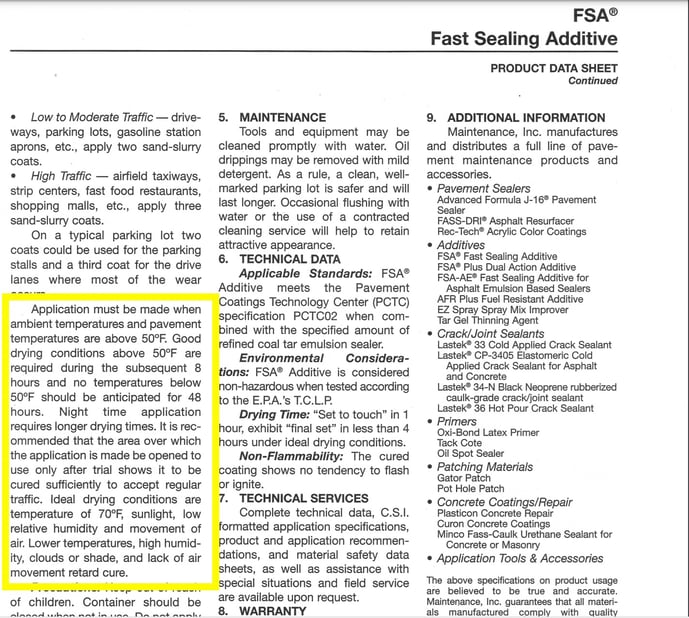 Examples Of The Failure Of Nighttime Seal Coating Applications:
The pictures below are of a seal coating application that is less than 60 days old.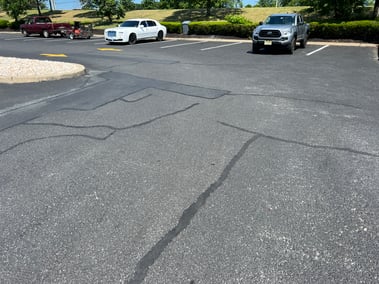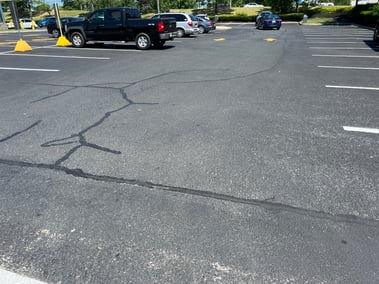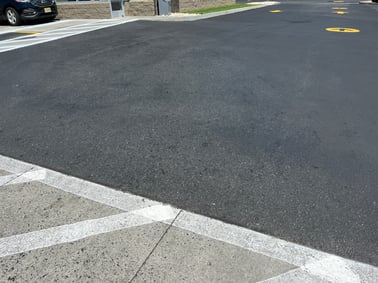 Is There An Instance Where Seal Coating Performs Well On Quick-Service Restaurants?
Yes- if the pavement sealer is able to cure properly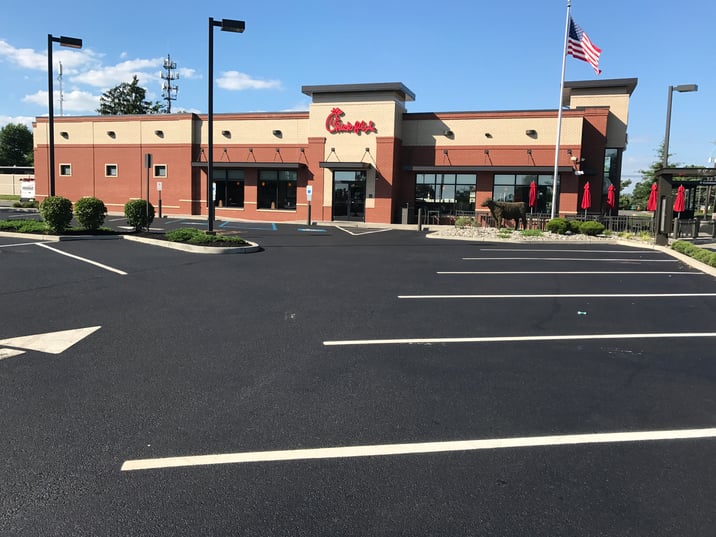 (The picture above is of a 1 -year old + seal coating application on a Chick-fil-A parking lot.
There is practically no wear & tear on the pavement sealer)
Chick-fil-A has without a doubt the most well-maintained parking lots in the country. Chick-fil-A may have a secret menu that not everyone knows about but there is no secret as to why their parking lots are always in top condition and last the longest before requiring milling and paving.
Chick-fil-A stores are closed on Sundays. This scheduling window allows a seal coating contractor the opportunity to begin work early Sunday morning at 5 AM and allow the pavement sealer an entire day of sunlight and heat to cure properly.
Conclusion:
If you apply pavement sealer overnight and open the parking lot the following morning the pavement sealer will fail with-in 6 months
By keeping a parking lot section closed for 24 hours you may experience an impact to store sales, however, the impact will be far less than the cost of milling and paving when your parking lot life is reduced by 50%
If you are unable to keep your parking lot closed to properly cure- at minimum - perform crack sealing on an annual basis to extend the life of your asphalt. Also, be vigilant to inspect your parking stalls for deep oil stains that could result in a trip and fall.