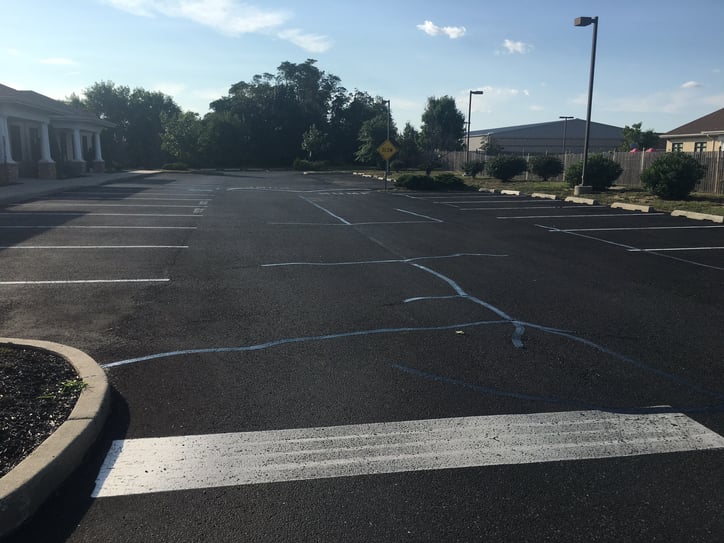 Top 5 Reasons To Crack Seal Your Asphalt Parking Lot Before Winter:
1.) Waterproof: Crack sealing prevents water from infiltrating down to the sub grade
2.) Prevent Potholes: Crack sealing prevents potholes
3.) Extends The Life Of Your Asphalt Parking Lot: Studies performed have proven when crack sealing is completed as part of a preventative maintenance plan it will extend the life of your asphalt parking lot by as many as 10-15 years
4.) Safety: Prevents trip and falls
5.) DELAY THE OVERLAY: Crack sealing will help extend the life of your parking lot and delay costly milling & paving.
How Is Crack Sealing Performed?
The crack is cleaned with a hot air lance or air blower. It is important to remove any / all vegetation or moisture that will prevent the crack sealer from adhering to the walls of the crack
Install a HOT rubberized crack sealant (Manufacturers: Gem Seal, Crafco, Neyra, Sealmaster, Deery, Rightpointe). Only hot rubberized crack sealants will properly seal and waterproof a crack. Cold poured materials often found in home improvement stores WILL NOT properly seal a crack. Installing hot rubberized crack sealant requires professional equipment such as trailer mounted meter and application banders / pour pots
Install the crack sealer to properly fill the crack level with no sink age or recessed areas
Apply a coating of black beauty slag to help promote a better bond with pavement sealer and allow the area to be opened to traffic immediately
What is the cost of crack sealing?
Depending on preparation, crack size and amount of lineal footage the average cost for crack sealing an asphalt parking lot is $0.60 - $1.25 per lineal foot.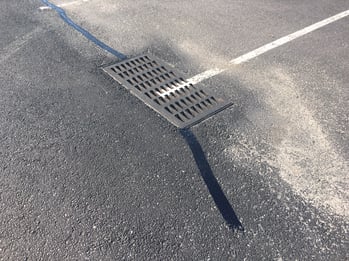 It is advisable to seal any cracks around manholes or catch basins / storm drains due to the fact if water seeps into the concrete block and mortar and freezes it will lead to a collapse and life safety issue
Crack Sealing is not a "One & Done!"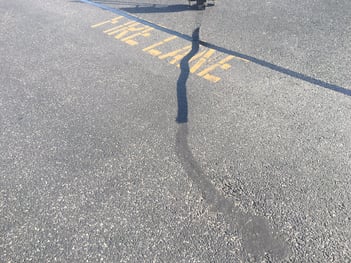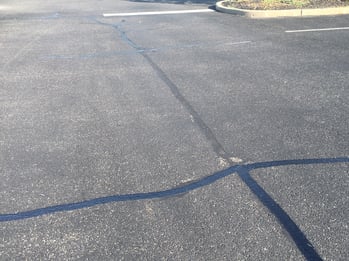 As you can see from the pictures above there is existing crack sealing in place which was installed in 2015 and then new cracks had formed which were sealed in 2016.
Crack sealing should be evaluated on a yearly basis in October / November before winter. Any new cracks should be sealed and any previous cracks that were sealed and may have reopened should receive a follow up application. Just like on the highways when crack sealing is completed yearly you parking lots / community roadways should be reevaluated and crack sealed on an annual basis.
For example, our company through our Pavement Guardian Program offers free inspections yearly and offers follow up crack sealing on either a unit price or a preventative maintenance plan which is charged by the square foot and covers all of your parking lot.
Receive a FREE ESTIMATE to crack seal your asphalt parking lot before winter