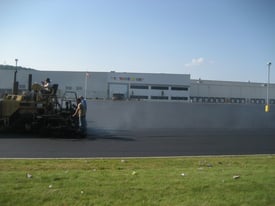 Over 80% of our business in the South Jersey Market comes from repeat customers. The other 20% of our business comes from leads for single projects and new clients. Some clients purchasing our services for the first time are naturally inclined to ask us "who are some of our competitors?"
Our company is dedicated to educating our prospective clients about how to get the best value for their budget dollars and elevating our "tarnished" industry. We offer full transparency when a prospective client calls to learn more about our company and the services we offer.
Here is a list of some other South Jersey Paving Companies which provide paving, concrete and pavement maintenance services in the South Jersey Market:
Garden State Paving: Quality and experience - that's the Garden State Paving Co.tradition. We are your South Jersey Asphalt Paving Experts. They also offer residential and commercial asphalt installation, repair and sealcoating.Garden State Paving paves asphalt driveways, parking lots or private & rural roads. They also provide sealcoating to extend the life of your asphalt areas. Garden State services most of South Jersey, with their primary service areas being Burlington, Camden and Gloucester County. They are located in Cherry Hill NJ
American Asphalt: American Asphalt has been in business since 1986 and provides Parking Lot Maintenance, Asphalt Paving, Asphalt Patching, Crack Filling, Seal Coating, Line Striping, Wheel Stops/Bollards, Speed Bumps, ADA Compliance Solutions, Traffic Signs and owns (2) two asphalt plants. They are located in Collingswood & Burlington NJ
Asphalt Pavement Solutions: Asphalt Pavement Solutions offers a wide range of asphalt services to help protect, preserve and beautify your asphalt investment. If you are looking for a reliable Camden Asphalt Companyor Philadelphia Asphalt Company, APS is only minutes away. We also serve the entire New Jersey, Pennsylvania and Delaware area. They provide asphalt sealcoating, parking lot striping, asphalt crack repair, parking lot repairs and concrete repairs. They have been in business since 1983. They are located in Delran NJ
Tars & Stripes Asphalt Maintenance LLC: Founded in 1985 Tars & Stripes Asphalt Maintenance L.L.C. is an asphalt maintenance and pavement marking contractor which services the South Jersey & Delaware Valley areas. Tars & Stripes was established by owners who built their expertise in all aspects of the trade through hands-on experience out in the field. They are located in Warterford NJ
Asphalt Care Company: Asphalt Care Company has been serving the areas for over 18 years. They handle projects from customizing or repairing a small driveway to installation of commercial parking lots. They specialize in Paving, Sealcoating, Asphalt Repairs, Line striping, Crack filling, Excavating and Street Print. They are located in Medford NJ
So there are 5 companies to consider if you're getting quotes for your asphalt project. As we have stated many times before on this site, the key to a great experience in your asphalt / concrete installation is two-fold:
-The quality of the scope of work and materials
-The contractor performing the work
Hopefully, in your case, both these will be of highest quality and your asphalt / concrete experience will be an exceptional one. As a company that provides a solid scope of work and the highest quality workmanship in the industry, we do hope to assist you through this process as much as possible to get the most value for your budget dollars.
Steven Brahney