FixAsphalt.com NJ Parking Lot Paving Covid-19 Response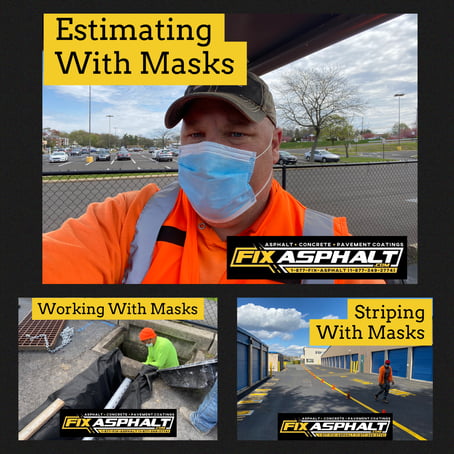 We at FixAsphalt.com understand these are difficult times. But we truly believe the best thing we can do is prepare for when this situation is behind us. We recognize the impact the COVID-19 may be having on your business, employees, and families. We know the safety and health of your clients/customers is your # 1 priority.
As a Property Owner/Manager or Facility Manager we understand most of your parking lots are empty at this time. It may not seem like it, but this is actually the best time to take a look at your parking lots to make sure you have no life-safety issues and that your parking lots are ADA compliant.
We have the ability to do this for you! Best of all, we can do this while practicing all aspects of social distancing.
All of our estimators have the ability to FaceTime/Skype with you right from your property. This gives you the unique opportunity to see your parking lots in real time and discuss with our estimators the issues and problems you may be experiencing.
While this situation is new to all of us, using the newest technologies to help our clients with their parking lots is our "normal" For many years, we have been at the forefront of the NJ paving market, leading the way as a technology-based paving company.
We believe the best thing we can do, is continue to push forward so that when this virus is behind us, we will be able to service our customers and new-customers in the best possible way. During these challenging times, FixAsphalt.com strives to serve as a trusted source for all of your parking lot challenges and needs. We want to encourage all of our customers to keep following the CDC's and WHO's recommendations for social distancing and following all critical stay-at-home orders.
At this time. we are capable of completing any emergency repairs you may need addressed. Emergency repairs can be usually be repaired with 2-5 people. Emergency repairs available to be completed at this time are not limited to:
Catch Basin Repairs

Sinkholes

Tripping Hazards

Insurance HUD Inspections for Life-Safety Issues

Potholes

Traffic Signage Installations
If you have any questions about FixAsphalt.com's commercial paving and emergency services during the coronavirus situation, please CONTACT US VIA EMAIL TODAY or call us at 877-349-2774.
Thank You and Stay Healthy,
The Staff of FixAsphalt.com