Not to say working in the pavement industry is tedious but the mundane of doing the same tasks day after day can create tunnel vision at times.

What I love about working in the pavement industry (Both Office & Field) are the challenges it presents at times and the ability to solve problems- it's mainly rewarding when the problems you can solve are that of a customer! And when those solved problems result in them not losing their job then I really love to help.

Picture this scenario... I am working on the landscaping in my yard on a Saturday morning, and when I come back in the house I find I have three missed calls from a client... on a Saturday... I know there is a problem. This particular client managed 370 properties in NJ, PA, DE & NY. I am assuming it's a typical "Hey; I just received a call that we had a catch basin collapse, can you send someone to barricade it?" It wasn't- it was far more urgent!

Apparently, outside the Corporate Headquarters (Right next to where the CEO lands his helicopter) the in-house maintenance crew was trying to help the facilities department and created a situation. The CEO requested "Reserved" parking stalls striped outside his office for himself and visiting VIP's. The in-house maintenance crew did the best job they could by using paper stencils purchased from Home Depot. Well... on a windy day with stencils that are intended for a one time use you can probably imagine what the finished product looked like when it was complete.

My Client told me he needed to have them fixed before Monday because he and his Boss feared they would lose their jobs. When he exclaimed this to me I am embarrased to admit I kind of chuckeld with a "come on man, is the stenciling really that bad?" in which he replied, "I am dead serious- I will most likely LOSE my job Monday if anyone sees this!"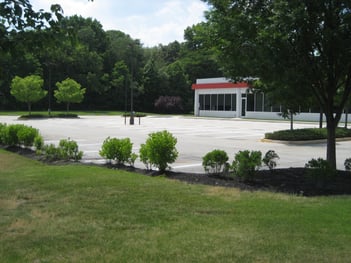 I proposed sending the striping crew to blackout the old stencils with a symmetrical square and restriping the Reserved stencils. Because the asphalt was older and very gray, my Client was nervous it would just accentuate the issue as the crew already tried to do that. I told him the only option and especially one that would make the area "pop" would be to seal coat the parking lot. Picture the helicopter flying overhead and seeing this nice slate black finish with fresh white stripes on Monday morning. He said, "GO!"

Here was the issue, they were forecasting a 75% chance of rain Sunday, and I had a seal coating crew four hours away and my second seal coating team had worked fifteen days straight, and I had given them the next four days off to rest. At this point, I was prepared to suit up into work clothes and enlist friends and family if need be to help get the job done as the clock was ticking. As a last ditch effort, I broadcast a group text out to the seal coating crew asking anyone who wanted to work to report to the South Jersey office in the next hour. Amazingly, all seven team members responded they wanted to come into work (That was before they even knew they were getting paid double time for the last minute effort).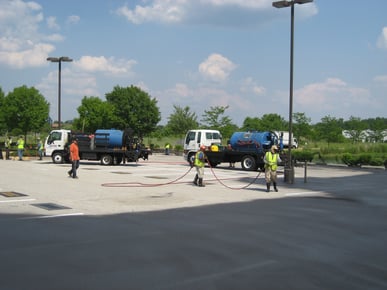 Within 2 hours I had enough equipment, workforce, and resources to seal coat a 500,000 square foot parking lot that were dedicated to this 35,000 square foot executive parking lot.


(2) Two Neal Seal Coating Trucks
(2) Two 18 HP Walk Behind Blowers
(7) Seven Experienced Craftsman
(1) 110 Gallon Crafco Crack Sealing Machines
(4) Four Airless Line Striping Machines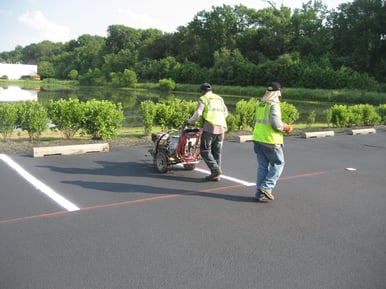 The crews was in / out in under 5 hours. The crew knocked it out of the park, to say the least!

We were able to clean, crack seal, black out the old stencils to prevent them from bleeding up, apply (2) two coats of pavement sealer, stripe and most importantly "stencil the Reserved parking stalls" well advance of the rain and in time for everyone to report back to work on Monday.
I love these type of scenarios because of its a win-win for everyone.