---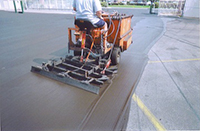 Fall Pavement Sealcoating Tips
Fall is your last opportunity to sealcoat your asphalt parking lot in the Delaware Valley, Philadelphia, South Jersey, Delaware, Maryland and Delmarva Regions before winter sets in. Sealcoating is part of a preventative maintenance program which also includes hot rubberized crack sealing. A properly designed preventative maintenance program will help extend the life of your asphalt parking lot by 10-25 years depending in its current condition.
For maximum performance, pavement sealer must be applied to structurally sound pavement free from structural defects to include: alligator cracking, potholes, rutting, cracking from improper asphalt thickness, underground water issues pumping to the surface etc.
Pavement sealer can be used successfully for curb appeal projects where the pavement is not structurally sound, however, the asphalt needs to be cleaned up. In this instance, structural repairs would not be performed, only cleaning of the surface to promote proper adhesion. "Curb Appeal Sealcoating" is completed for commercial properties prior to listing a property for sale, in an instance where a budget is deficient for proper repairs but there is a desire to give the asphalt a fresh jet-black appearance or where an asphalt overlay is budgeted for 1-2 years down the line and the property needs to be cleaned up.
BENEFITS OF SEALCOATING: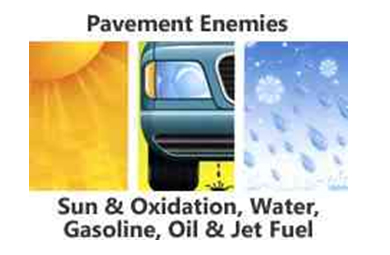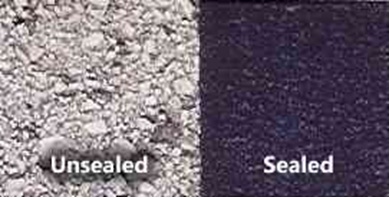 DIFFERENCE BETWEEN SEALED AND UNSEALED ASPHALT
OPTIMUM TIME TO APPLY PAVEMENT SEALER:
Pavement sealer is typically applied from April 1st – October 31st when temperatures are 50 degrees and rising as per manufacturer specifications. Pavement sealer should not be applied at any time in the early spring or late fall if temperatures are going to fall below 40 degrees overnight. The fall is a very popular time to sealcoat as it gives the pavement a layer of protection from rain, snow and de-icing chemicals which has not be worn off by traffic all summer.
WHAT TYPE OF PAVEMENT SEALERS ARE AVAILABLE IN THE DELAWARE VALLEY, PHILADELPHIA, SOUTH JERSEY, DELAWARE, MARYLAND & DELMARVA PENINSULA MARKETS?
Coal Tar Emulsion: Coal Tar Emulsion pavement sealer is the "mainstay" of the industry since the 1950's. Coal Tar Emulsion is a very durable pavement coating and is preferred for high traffic asphalt surfaces along with sealcoating in the cooler temperatures of the fall. Coal Tar Emulsions are mixed with silica sand and latex polymers to help them perform in high traffic applications. Coal Tar Emulsion Pavement Sealer is typically applied every 3 years.
Asphalt Emulsion: Asphalt Emulsion Pavement Sealer is viewed as a more "Environmentally Friendly" alternative to coal tar emulsion. Some clients prefer to use Asphalt Emulsion for their sealcoating projects that border the Chesapeake Bay Region due to their "Green Product Status" If you are looking to sealcoat your asphalt parking lot anywhere on the Delmarva Peninsula / Eastern Shore, we can offer you a completely green alternative. Asphalt Emulsion Pavement Sealers are successful in a pavement maintenance program when expectations are managed. When Asphalt Emulsions are applied to high traffic surfaces, they may require touch up coating in 2 years. Asphalt Emulsion Pavement Sealers are mixed with silica sand and special polymers chemically compatible with the specific chemistry of asphalt cement. (This is why 90% of Asphalt Emulsion Pavement Sealers do not perform as intended. They are not applied at the proper coverage rates, over diluted with water and mixed with an inferior mix design)
We apply high quality Coal Tar Emulsion and Asphalt Emulsion Pavement Sealers manufactured by Gem Seal. After applying pavement coatings for 20+ years and applying hundreds of thousands of gallons, we have found Gem Seal Pavement Sealer to last the longest and have a high level of integrity when manufacturing their product.
SCHEDULE CONSTRAINTS FOR FALL SEALCOATING:
With the fall come Daylight Savings Time and cooler temperatures. Pavement sealer requires heat, wind and sun to cure properly. Towards the tail end of the season, heat and sun start to diminish.
The time to schedule your sealcoating estimate is NOW! If your project has specific scheduling challenges such as it can only be seal coated on a certain day of the week, this creates a challenge as well.
All of these challenges can be overcome if your asphalt sealcoating project is planned and scheduled early enough in the fall.
CALL FOR YOUR FREE ESTIMATE TODAY
We can provide a comprehensive sealcoating, crack sealing & line striping estimate within 48 hrs for commercial properties to include: property managers, shopping centers, country / tennis clubs, yacht clubs, office buildings, corporate campus's, industrial parks, self-storage facilities, trucking facilities, healthcare facilities, retirement communities, places of worship, homeowners associations, apartments, hospitality, funeral homes or other commercial / industrial / multi housing facility.
CLICK BELOW FOR YOUR FREE ESTIMATE