Several times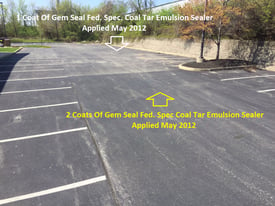 a month my sales team is usually told they are "priced higher" for a seal coating project.
Our next question is, "Are they applying 1 or 2 coats of sealer?" Most times the competing proposals are vague at best- with some even specifically specifying a 1-coat application.
Will a 1-coat spray application of pavement sealer be sufficient? The answer is "maybe" and only for certain circumstances. Lets review the applications where 1-coat of pavement sealer will be adequate:
1.) You are planning on paving the following year and just need to get the asphalt black to add curb appeal, lower your vacancy rates, brighten striping etc.
2.) You are selling the property and looking to give the asphalt a fresh look
3.) The asphalt was sealed 2 years prior and the prior seal coating is still performing well. You need to freshen up the property for a re-grand opening etc.
These isolated instances are the only time a single spray coat application of pavement sealer will provide the intended service life of 3 years for a coal tar emulsion pavement sealer.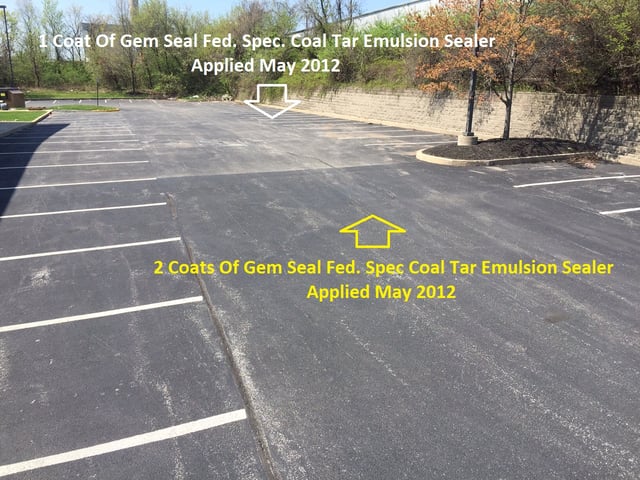 The picture above is of a 3 year-old test application of a 1 & 2 coat application
The picture above clearly shows the difference in wear and tear on a 1-coat application versus a 2-coat application. The 1-coat application is far more worn than the 2-coat application while both test areas receive the same amount of traffic. While wear and tear may appear to be more cosmetic to some property managers, however, the area that only received 1-coat of sealer and wore thin in 1 year has allowed water, deicing salts, oxidation from the sun and gas / oil to penetrate the asphalt while the 2-coat application has only shown signs of wear and tear from snow plow damage
Parking Lot: High Traffic Commercial
Asphalt Age: 10 Years Old – First sealcoating application
Location: King Of Prussia, PA
Application date: May 2012
Picture Taken: May 2015
Pavement Sealer Mix Design (Per 100 Gallons):
100 Gallons Gem Seal Fed. Spec. Coal Tar Emulsion Pavement Sealer
30 Gallons of Water
300 lbs of silica sand
3% Admixture of Gem Seal Rapid Set Latex Modifier
Pavement sealer applied with a Neal Piston Pump Sealcoating Unit