Are you searching for a professional company to help you with your Delmarva Paving, Concrete or Sealcoating Projects
Most quotes are provided with-in 5 days via email
FIXASPHALT.COM Of The DELMARVA PENINSULA proivdes the following services:
Asphalt Paving
Asphalt Resurfacing
Asphalt Milling
Asphalt Repair
Permeable Asphalt
Pothole Repairs
Catch Basin Repairs
Concrete Sidewalk Repairs
Concrete Curbing Repairs
Concrete Pavement Repairs
Concrete Dumpster Pad Repairs
Concrete Crack Sealing
Permeable Concrete
Parking Lot Striping
Asphalt Crack Sealing
Asphalt Sealcoating
Parking Lot Sealcoating
Asphalt Sealcoating with Environmentally Friendly Pavement Sealer
Coal Tar Emulsion Alternative Sealers
Squeegee Applied Asphalt Sealer For Longest Lasting Application
Traffic Sign Installation
BLOG ARTICLES:
How much does it cost to sealcoat a parking lot on the Delmarva Peninsula?
How much does it cost to pave a parking lot on the Delmarva Peninsula?
Commercial / Industrial & Retail Properties We Service:
Sorry we do not offer service to Residential Driveways unless they are part of a Homeowners Association
Parking Lots
Churches / Places Of Worship
Restaurants
Gas Stations
Home Owner Associations (HOA)
Property Managers / Facility Managers
Shopping Centers, Malls, Outlet Centers
Yacht Clubs & Marinas
Access Roads
Sports Facilities
Distribution Centers
Country & Tennis Clubs
Corporate Campus's
Farms & Estate Properties
Hotels
Health Care Facilities
Multi-Family (Apartments, Townhouses, Condominiums)
Office Buildings
Banks
Warehouses
Industrial Parks
Distribution Facilities
PAVEMENT SEAL COATING DESIGNED FOR THE DELMARVA PENINSULA
Environmentally Responsible Sealcoating Application For The Chesapeake Bay Watershed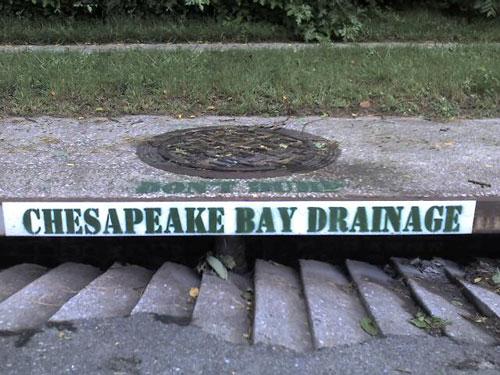 1-877-FIX-ASPHALT of the Delmarva Peninsula only uses Environmentally Responsible Asphalt Emulsion Pavement Sealers.

Duraseal Asphalt Emulsion Sealer manufactured by the Henry Company is a cutom blended asphalt emulsion sealer fortified with aggregate, including slate as its primary filler, using a sophisticated milling process.
Asphalt Emulsion Pavement Sealers are better suited for the delicate Chesapeake Bay Region because they contain NO COAL TAR and NO P.A.H.'s which could be introduced into into the Chesapeake Bay through storm water runoff.
Another Sealcoating Company Told Me Asphalt Emulsion Sealers Don't Last As Long As Coal Tar Sealer?
Both True & False- Traditional asphalt emulsion sealer mix designs which are purchased from seal coating manufacturers do not last as long as a traditional coal tar sealer with the mix design being "equal." In laymens terms, a seal coating contractor can purchase coal tar sealer or asphalt emulsion sealer from a distributor, over dilute it with water, not add an aggregate for durability, not add a latex polymer for durability, spray down 1 fog coat and the coal tar application will last 6-9 months and the asphalt emulsion application will last 3-6 months before it wears off.
Comparing Duraseal Asphalt Emulsion to other manufacturers asphalt emulsion products is like comparing apples to oranges.
Why Does Duraseal Asphalt Emulsion Outlast The Competitons Asphalt Emulsion?
Duraseal Asphalt Emulsion is manufacturerd with the necessary aggregate to ensure durablity. Other manufacturers / distributors simply sell a concentrate formula where they rely on the contractor to add the necessary aggregate (which they rarely do!) thereby resulting in an inferior application
Duraseal Asphalt Emulsion only requires 10-15% dilution by water where other manufacturers / distributors require 20-30% which reduces the solids content and provides an inferior product
Duraseal Asphalt Emulsion is reccomended for a 1st coat squeegee application - 2nd coat spray application which is industry recogmized as the most "DURABLE" application of a pavement sealer "SYSTEM." Other contractors apply a single "fog coat" which is enough sealer to make the surface black and make the stripes stand out and guarantees the contractor will be able to get paid. However, 3-6 months later the fog coat will have worn down to the asphalt in the high traffic areas and will be non-existent along with the worn off stripes by the following spring.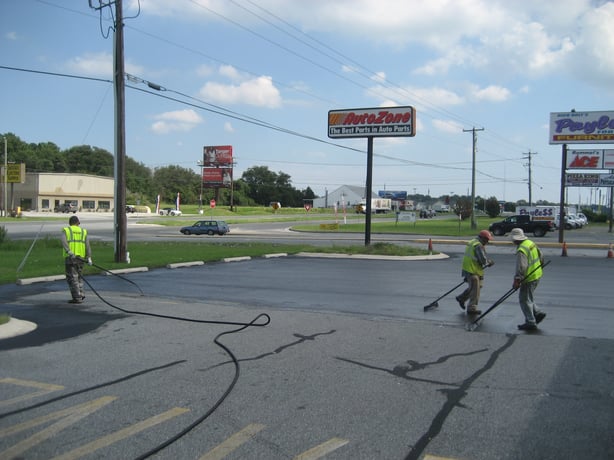 The "KEY" to getting environmentally friendly asphalt emulsion pavement sealers to last is by combining the "BEST" product available in your market with the most durable application method "1st Coat Squeegee - 2nd Coat Spray"
Areas We Service:
The Entire Delmarva Peninsula * The Eastern Shore * Sussex County, Delware * Kent County, Delaware * Kent County, Maryland * Queen Anne's County, Maryland * Caroline County, Maryland * Talbot County, Maryland * Dorchester County, Maryland * Wicomoco County, Maryland * Worcester County, Maryland * Somerset County, Maryland * Accomack County, Virginia * Northampton County, Virginia * Dover, Delaware * Camden, Delware * Frederica, Delaware * Milford, Delaware * Greenwood, Delware * Lewes, Delaware * Bridgeville, Delaware * Felton, Delaware * Georgetown, Delaware * Dagsboro, Delware * Delmar, Delaware * Rehoboth Beach, Delaware * Dewey Beach, Delaware * Bethany Beach, Delaware * Fenwick Island, Delaware * Selbyville, Delaware * Millsboro, Delaware * Seaford, Delaware * Laurel, Delaware * Chestertown, Maryland * Easton, Maryland * Wye Mills, Maryland * Centreville, Maryland * Saint Michaels, Maryland * Cambridge, Maryland * Hurlock, Maryland * Federalsburg, Maryland * Berlin, Maryland * Salisbury, Maryland * Parsonburg, Maryland * Fruitland, Maryland * Princess Anne, Maryland * Pocomoke City, Maryland * Snow Hill, Maryland * Ocean Pines, Maryland * Ocean City, Maryland * * Bishop, Maryland * Delmar, Maryland * New Church, Virginia * Chincoteague, Virginia * Accomac, Virginia * Onley, Virginia * Tasley, Virginia * Exmore, Virginia * Painter, Virginia
Office Locations:
Delmarva Office:
23000 Sussex Highway
Seaford, DE 19973
1-877-349-2774
Yard Locations: Salisbury, MD & Dover, DE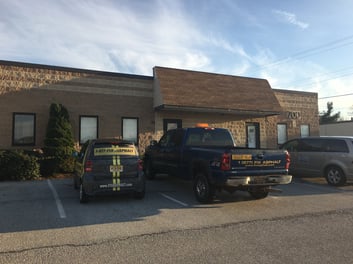 Corporate Office:
700 Cornell Drive
Suite E-17
Wilmington, DE 19801
1-877-349-2774
Projects we have completed on the Delmarva
Lowes Home Improvement Stores
WaWa Food Markets
Auto Zone
Advance Auto Parts
Wal Mart
Sam's Club
BJ's Wholesale Club
PNC Bank
Associations We Belong To: